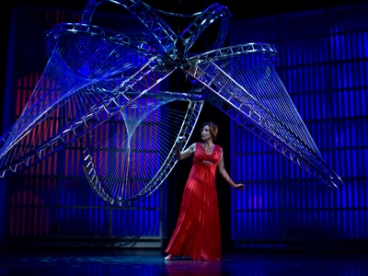 MIT professor of music and media Tod Machover is rocking the opera world again. Next week his new work, Death and the Powers, debuts in Monaco featuring singing Opera Bots, a vibrantly animated set, and world-class singers. Once again, he is stretching the boundaries of musical composition and performance. Get a sneak preview.
Early in the opera, the protagonist Simon Powers transfers his memories and personality into his own invention, The System. Thereafter he is present through an intelligent environment that appears as "giant bookcases with thousands of lights that move to the rhythm of the music, as well as a sinuous, light-emitting musical chandelier with resonant Teflon strings," according to a News Office article, "Disembodied Performance."
Death and the Powers relies on software that PhD students Peter Torpey SM '09 and Elly Jessop SM '10 developed in Machover's Opera of the Future group; it measures singers' performances from volume and pitch to muscle tension and breathing patterns. The lead singer's conscious and unconscious responses, tracked by this software, will translate into the robotic environment to express the essence of what it is to be human. Some 60 MIT students and collaborators are traveling to help stage the premiere.
A Boston magazine article, "Genius Composition: How professor Tod Machover and a group of MIT scientists are creating the future of music," chronicles Machover's musical evolution, connection with the Harmonix founders, and his extensive range of innovations. For Machover, the Boston piece concludes, the future of music is expression, not expertise. "Music is about conveying human emotion and ideas with other people," he says, "and it doesn't matter if you play a wrong note."
Learn more about the opera and the Sept. 24-26Monaco performance  and a special performance as part of MIT's 150 anniversary celebration in March 2011 .
Filed Under