In the world of data visualizations, Ben Fry SM '00, PhD '04 is something of a luminary.
His work translating complicated data sets into beautiful and understandable graphic illustrations and tools has appeared in New York's Museum of Modern Art; at Ars Electronica in Linz, Austria; as part of the 2002 Whitney Biennial and the 2003 and 2006 Cooper Hewitt Design Triennial; and in Nature, New York Magazine, The New York Times, and other publications. Fast Company recently named him one of the 50 most influential designers in America, and last June he was awarded the National Design Award in Interaction Design from the Cooper-Hewitt National Design Museum
Fathom, the info-visualization firm Fry cofounded, recently released Dencity, which maps population density of the world's seven billion people using circles of various sizes and hues. But instead of following convention, with big dots indicating a large number of people, Fry employed the opposite technique. Denser areas are represented by smaller, brighter circles while sparsely populated areas are shown with larger, darker circles.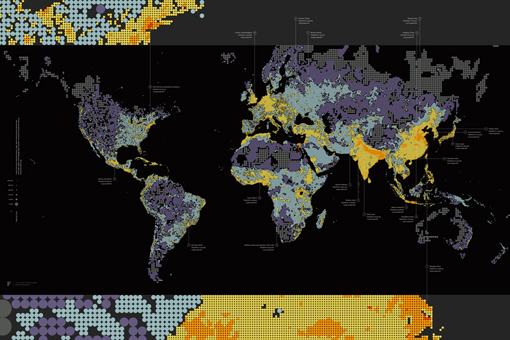 Fry developed his skills while part of the Media Lab's Aesthetics + Computation Group, and he's also the cocreator of the open-source programming language Processing, which helps many of today's data visualizers create interactive designs.
Other projects Fathom has completed include showing the evolution of Darwin's theories in On the Origin of Species, the shifting trends in population age around the world, and U.S. energy supply and consumption, among many others.
But perhaps the most fun? MacRecipes: a catalog of every trick and material used on the TV show MacGyver. Fathom used Fry's Processing software as well as data from MacGyverOnline and the Internet Movie Database. You can see how many times, for example, MacGyver used a fire hose to get out of trouble. It's good to know it's useful for more than just drinking from.