Combining Medicine and Public Health Research to Address Mental Health in Vulnerable Communities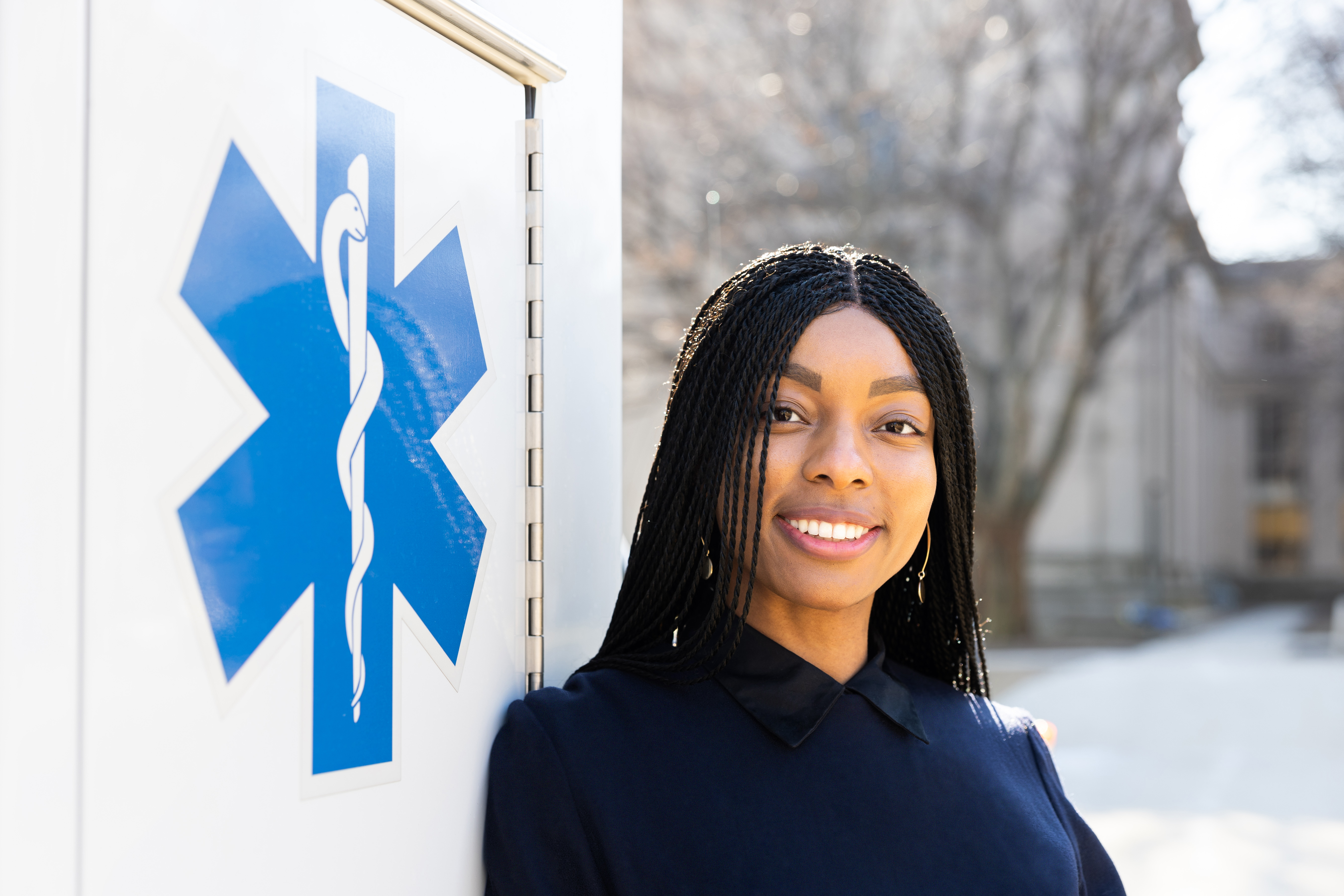 With only one year left of medical school at Harvard, Mo Okobi '16, took a leave of absence. She didn't want to take a break as much as a "step back"—a moment to reassess and reframe what she was learning in school within the bigger picture of the US health care system. During that year, Okobi earned her master's in public health from the Harvard School of Public Health.
"It's so important to keep a broader view of the trends in medicine," she says, "to look at what medications and therapies we're using and what is actually working for patients."
When she applied to the master's of public health program, Okobi couldn't have known that her year-long leave to study public health would overlap with a pandemic. Needless to say, it was good timing. Okobi's joint training in public health and medicine has also uniquely positioned her for a career combining clinical practice and research around chronic mental illness.
Though she says she never expected to find herself on this path, Okobi's experiences at MIT shaped her approach to medicine and her commitment to providing quality mental health care to underserved communities.
Okobi was interested in many aspects of medicine when she enrolled at MIT. She majored in biology, with a minor in chemistry, to explore her broad interests in STEM. She joined MIT Emergency Medical Services, a student-run, volunteer ambulance service, for the same reason.
Being a certified EMT, though, she says, was one of the most formative aspects of her MIT education. She describes it as an "intensive introduction to medicine," cementing her excitement about her future as a doctor. It was also one of her first exposures to mental health care, and Okobi believes that mental health emergencies made up a large proportion, if not a majority, of their calls.
"MIT EMS was really my first opportunity to actually work with patients very closely and see them in their moments of need," she says.
While deciding to become a doctor was easy, Okobi's journey to research wasn't so smooth. She participated in one official undergraduate research experience at MIT, admitting, "I kind of hated it." Working in a basic science biology lab, Okobi realized that the bench wasn't for her.
Fortunately, her mentor, Hazel Sive, a former MIT professor of biology and now dean of the College of Science at Northeastern University, took the time to talk with Okobi and figure out where she'd thrive. Sive, a South African, connected Okobi with the MIT Africa Program, through which she spent a summer in Johannesburg with the South African National Health Laboratory Services.
That experience, which she describes as a "pivotal framing moment," helped Okobi understand how a career combining clinical practice and research might look. She worked with scientists studying HIV transmission from mother to child, assessing the quality of testing and resource gaps across different provinces. Near the end of her internship, Okobi was able to go into an HIV clinic and do antibody testing.
"I'm looking at these numbers. I'm making all these graphs and writing this paper, but I'm also seeing the people," she says. "I loved the clinical work. I loved meeting people and knowing their stories."
At graduation, Okobi was recognized as a Ronald E. McNair Scholar, an award that goes every year to Black undergraduates who have excelled academically and contributed to the experience of students on campus from underrepresented groups. The award was established in honor of McNair PhD '77, an accomplished astronaut who received his doctorate in physics from MIT and tragically perished onboard the Challenger space shuttle in 1986.
Having found a passion for applied, public health research, Okobi spent a year before medical school at a health care data analytics startup called Aetion. Aetion uses data from hospitals and insurance companies to analyze health care trends like medication usage and clinical outcomes. For a self-described "numbers nerd" like Okobi, it was a great way to learn how health care studies are designed and see the big picture behind clinical decisions.
It was her second year of medical school, though, that focused Okobi's health interests around psychiatry for marginalized populations. During her clinical rotations, she worked at Cambridge Health Alliance (CHA), a public, community-centered hospital. At CHA, she served many non-English speakers and MassHealth recipients and was able to do rotations in outpatient, inpatient, and emergency psychiatric settings.
"I really got to see it from all angles," Okobi says of her psychiatry rotations. "I loved the practice of creating space for people to talk about their lives.... It's about the medicine and mental illness, but it's also about seeing the whole person."
As for what's next, Okobi will be heading west for her residency in psychiatry at the University of California San Francisco.
Her work with CHA convinced Okobi to apply for residencies in psychiatry. She's primarily interested in acute care settings, particularly for those with severe, chronic mental illnesses like schizophrenia. For her, one of the joys of inpatient care is working closely with patients on a daily basis, to, as she describes it, "try to leave a positive, lasting impression on those first encountering psychiatric care."
Yet, armed with her degree in public health, she's also committed to combining her clinical practice with ongoing research. At Harvard, she organized a mental health survey for medical and dental students in her class to improve access to mental health resources. Since 2020, she's been participating in research on psychiatric emergency care utilization with the Boston Emergency Services Team. In 2020, she returned to Aetion, as a consultant with their new FDA-backed Covid-19 research group, to lead epidemiological studies examining Covid-19 risk factors.
Looking back, Okobi knows that it may seem like she had a clear professional plan from the get-go. But she stresses that that wasn't her experience at all, and current students should understand that things have a way of working out if you're open to trying things.
"My path was very much like ping-pong, never knowing where I'm going next," she says. "The uncertainty never really ends, but I take refuge in those moments of serendipity, when I find something or someone that excites me and challenges me to be a better version of myself."
Photo (top): Steph Stevenson. 
This story was originally published by MIT School of Science.