Cheers, MIT! The Top 5 Toasts to Tech
Last month, the Alumni Association held a contest seeking the best original toast to be read at the MIT150 finale spectacular, Toast to Tech. Nearly 350 people submitted entries. Some were funny, some were sentimental, some waxed poetic. More than a few contained a sweetly nostalgic rendering of the belief that "Tech is hell."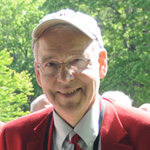 Eventually, the field was winnowed down with one winner and four finalists selected by a panel of distinguished judges: Pulitzer Prize winners Junot Diaz and John Harbison, Professor and STS Director David Mindell PhD '96, President Emeritus Paul Gray '54, SM '55, SCD '60, and retired New York Times journalist Karen Arenson '70.
All toasts were displayed at the event, and the winning words were read to a crowd of some 6,000 by Joe Harrington '61, senior VP of the 50th reunion class.
Without further ado, the top five.
Winning Toast Sometimes we speak a language others do not understand. We fail more often than we succeed. But then in the quiet of a roaring crowd, a glimmer of thought changes the world. MIT—believing the impossible, creating the unknown, providing hope for future generations...making Marks In Time. That's MIT. Here's to MIT! —By Deslie Webb Quinby MBA '95, Atlanta, GA
Finalists (in alphabetical order) MIT...a three-letter acronym implying Merit, Intelligence and Transcendence worldwide... MIT...where Multi Interdisciplinary Tasks of any sort can be done... MIT...that put our Mood In Test when so much cramming time we spent... MIT...a Make-It-True drive for a better world in years to come! —By Luis A. Bonfanti SM '97, Buenos Aires, Argentina
To MIT or not MIT, that is the Logic Gate. Whether tis better for the Mind to suffer the Pings of Outrageous Ignorance, Or take our Synapses to heights of Great Potential Ay, there's the nub. To Dream, to Learn...perchance to Hack. Tis an Outcome devoutly to be Wished. —By Thomas C. DeCanio SM '77, New York, NY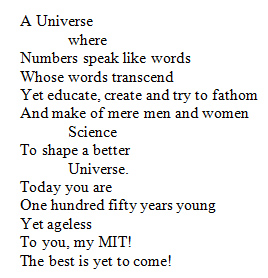 —By Ilya Gorodisher '85, SM '86, PhD '90, Stillwater, MN
May we all drink champagne as we drank from the firehouse—with passion, laughter, friendship, and curiosity. May we stay young in our quest for exploration and adventure and revel in the remarkable unknown surrounding us, as only MIT could have prepared us to do. Keep that firehouse gushing forever! —By Grethe B. Holby '71, MAR '73, New York, NY