A Carbon Accumulation Strategy with Deep Roots
Filed Under
In the early summer of 2018, William Moomaw PhD '65 was standing in a sun-dappled forest in western Massachusetts. He'd spent the better part of the day surrounded by a phalanx of white pines, gazing up at trees as high as 170 feet and over a century old. Beside him was Bob Leverett, a retired engineer whose hobby is using laser rangefinders to size up the volume of trees to within a few cubic centimeters. Moomaw, a longtime environmental science and policy expert, combined Leverett's measurements with his own knowledge of the percent carbon stored in different tree species and calculated the amount of carbon these giant trees were holding onto. "We were astounded," he says, by the results.
This was the beginning of the fieldwork that led Moomaw and his colleagues to realize the significance of recent publications in their field demonstrating that, in a multiage forest, half the carbon is stored in the largest 1 percent of trees. Moomaw and team took the next step, linking the size of trees to ongoing forest management practice and to the increasing amount of carbon accumulated over time.
For years, forest management has relied on the notion that young trees grow faster than older trees, so foresters would cut trees down for lumber before they got too big. Replant and repeat.
But really, says Moomaw, "it just comes down to geometry." An older, bigger tree has a much larger cross-sectional area compared to a younger, more slender tree, allowing it to add way more volume (and biomass that is 50 percent carbon) with each passing year. This led Moomaw to the unmistakable conclusion that "we should protect big trees, and we should also protect those trees that are going to become big trees." And that's when the big idea hit him—letting forests grow to accumulate the most carbon possible could be an important strategy in curbing the rise in atmospheric carbon dioxide, a way to fight climate change. Moomaw gave the approach a name: proforestation—a nod to the prevailing strategies of restoring cleared forests (reforestation) or creating entirely new ones (afforestation). For decades, environmentalists had been arguing to protect old trees and forests for moral or aesthetic reasons. But, Moomaw says, "proforestation identified the unappreciated significance of allowing forests to reach their ecological potential to accumulate carbon and support biological diversity." Additional research by him and others is adding evidence of the success of proforestation for carbon accumulation in different types of forests.
We should protect big trees, and we should also protect those trees that are going to become big trees.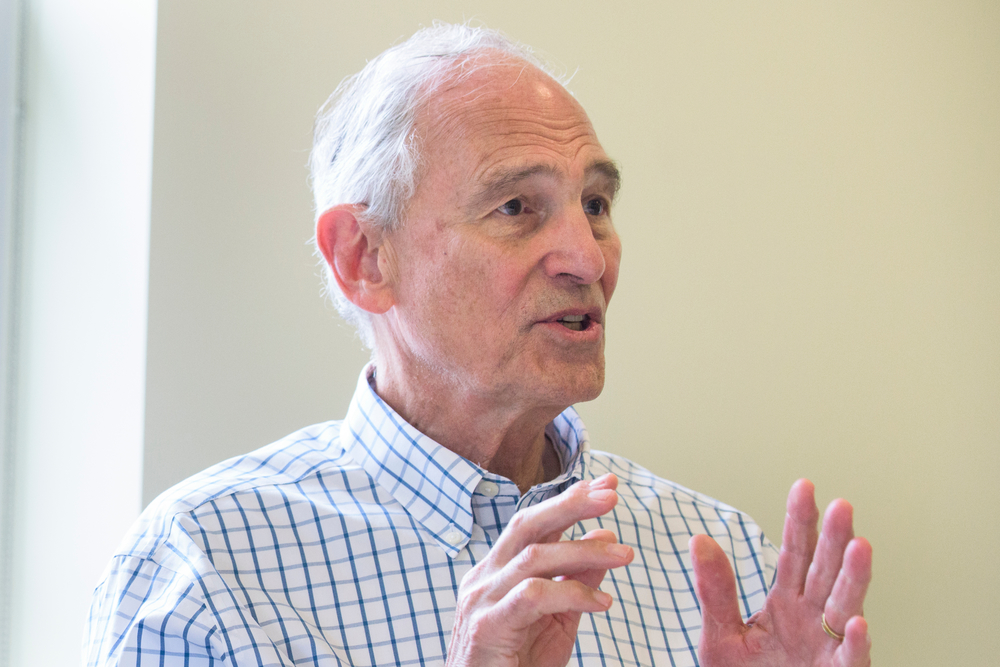 Since Moomaw began writing about the idea in 2019, proforestation has been introduced into legislation and policy documents in the European Union and is being discussed in several US states. This isn't the first time Moomaw has been part of a scientific idea that's reshaped how we handle an environmental crisis. After receiving his PhD in physical chemistry from MIT and conducting research on molecular spectroscopy and photochemistry, he applied that knowledge as an American Association for the Advance of Science Congressional Science Fellow—at the exact time that the ozone hole was yawning open above the poles. "I just happened to be there," he says, "when they were holding hearings on what to do about CFCs in spray cans and refrigerators." Moomaw served on the staff of Senator Dale Bumpers of Arkansas, assisting at the hearings (by, among other things, passing notes to the senator to advise him on how best to question the witnesses) and ultimately with the legislation that phased out CFCs, anticipating the global ban by a decade. For Moomaw, it was eye opening "to see policy follow the lead of the science as it was unfolding."
After his fellowship, he threw himself wholly into tackling the challenge of climate change—through developing technological solutions, studying renewables and tree planting, and coauthoring five major reports for the Intergovernmental Panel on Climate Change (including the 2007 report that won the Nobel Peace Prize). He went on to become the founding director of the Center for International Environment and Resource Policy (CIERP) at Tufts University. News of the program spread fast, as did the university's fresh slate of global environmental courses, some of which Moomaw taught for years before retiring from the center and assuming emeritus faculty status at Tufts in 2014. "Whatever legacy I may leave behind, the most significant is with the students I've mentored," he says.
Moomaw continues to publish his research in affiliation with CIERP and the Global Development and Environment Institute, which he cofounded at Tufts, and is currently a visiting scientist at the Woodwell Climate Research Center in Falmouth, Massachusetts. He has no illusions about the difficulties ahead in fighting climate change. In his words, "It's already an unmitigated disaster." And he believes we'll need an "all-out assault" to get where we need to go—a world in which we've slowed or halted our emissions and increased the rate of carbon drawdown. But now, in so-called retirement, it's Moomaw's work on proforestation that's been some of the most rewarding, and that's been garnering the most attention—in the scientific literature and from policymakers. "I find that a little strange," he admits, "that these ideas are getting attention at this stage of my life."
So, William Moomaw may well be making his biggest impact right now, during a time when he's something of a mature tree himself. "I figure that in the time remaining," he muses, "I'm going to just keep working on this and see what I can do."
---
Photo (top): Moomaw stands in Mohawk State Forest next to one of the largest older trees in Massachusetts, "still growing and storing additional carbon after about 160 years," he says. Photo courtesy of Bill Moomaw.
Filed Under