Can a Screen-Free Robot Teach Coding—and Build Character?
Filed Under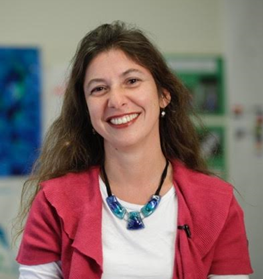 Marina Umaschi Bers SM '97, PhD '01 was working as a journalist in her native Argentina in 1992 when an assignment put her in touch with Seymour Papert—the visionary MIT mathematician and computer scientist who co-developed a programming language for kids called Logo. "When I was 10, my parents sent me to a Logo camp. I realized I was interviewing the creator," she recalls. During that pivotal conversation, she says, she found her calling: "I don't want to write about this. I want to do this." Shortly afterward, she arrived at MIT as a graduate student to work with Papert.
Now Bers is an educator and visionary herself. At Tufts University, where she has taught since 2001, she leads the DevTech Research Group, chairs the Eliot-Pearson Department of Child Study and Human Development, and directs the graduate certificate program in Early Childhood Technology. She brings to her work a multidisciplinary, tactile sensibility aimed at helping young children develop not only STEAM skills (incorporating science, technology, engineering, the arts and math) but also ethical and character values.
"Technology is advancing, but human problems—how to live together in a multicultural, diverse, multiethnic society—have been around forever. Technology may change the way we address some of those issues," she says, "because it involves problem solving, an open mind, trial and error."
Her Tufts research group has co-developed a programming language called ScratchJr in partnership with teams led by former students of Papert: the MIT Media Lab's Lifelong Kindergarten group, directed by LEGO Papert Professor of Learning Research Mitchel Resnick, SM '88, PhD '92, and the Playful Invention Company, cofounded by Brian Silverman '78. Based on the coding language Scratch, ScratchJr is designed to encourage kids age five through seven to program interactive stories and games. Some 13 million people worldwide have used the free ScratchJr app since it launched in 2014.
Through KinderLab Robotics, a startup she cofounded in 2013, Bers is working to make another of her inventions for early childhood learners available worldwide. An expansion of ideas she worked on at MIT with Papert, KIBO is a robot that uses wooden blocks (rather than a screen) to teach a basic, tactile programming language. Children queue up a set of actions by lining up individual blocks, each of which has a bar code, and using the robot to scan them. Then they press a button and KIBO enacts their program—performing a dance, telling a story, and so on.
KIBO emphasizes concepts such as sequencing that are not only relevant to coding but that also support learning in traditional curriculum areas such as reading, writing, and math. Its activities dovetail with students' existing curriculum, including well-loved stories like The Very Hungry Caterpillar, along with open-ended assignments that engage students' problem-solving skills and imagination. According to Bers, students learn not only how to engage with the technology most effectively but also how they can use it to interact positively with others.
Bers remembers visiting a class in which students programmed their KIBOs to dance the "wild rumpus" from Where the Wild Things Are. She chatted with a student afterwards. "I asked her, 'Did you like programming?' And she said, 'No! I was telling a story!' That's exactly what we want," she laughs.
Her work with KIBO and ScratchJr, as well as the multiple books she has authored, frames technology-based learning in a fun, communal way that convinces young children they can master these skills no matter their background or style of learning. "If we don't start early, we have to deal with stereotypes," she says. "By eight years old, many kids already think they're not good at STEM, and it's usually the girls and minorities."
KIBO has been implemented in 60 countries, including across school districts in Singapore and Buenos Aires. Her immediate goal is for KIBO to be used across the entire state of Massachusetts. Many schools in the state already use it, she says, but more widespread adoption would allow its impact to be studied. "Developing the technology is the easiest part. How do we make sure this enters the classroom in a developmentally appropriate way?"
And the classroom isn't the only avenue she sees for impact. In late 2019, KinderLab started a rental program designed for homeschooled kids, providing the KIBO robot plus curriculum and support for three months. Bers has also coordinated coding evenings with kids and their parents in the Boston area. No matter where students are, she says, she wants KIBO to be there.
"I'm not focused on developing the next generation of programmers," she explains. "I just want to impact the next generation of citizens—and they need to learn new skills and think in new ways."
---
Credits: photos of KIBO courtesy of KinderLab Robotics. Marina Bers headshot by Jonathan Williams.
Filed Under