Building a Robot Brain: Alumni Compete in DARPA Robotics Challenge
Filed Under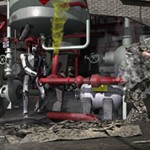 Boston Dynamics has built a robot named Atlas that is strong enough to save your life—but does it know what to do in an emergency? The Department of Defense has launched a $2 million contest inviting teams to create software to make a robot smart enough to rescue you. The teams' robots will compete head to head at performing tasks like climbing ladders and closing leaky valves, the Globe reports.
MIT and Worcester Polytechnic Institute have made the contest finals; both of these Massachusetts teams have chosen to use the Boston Dynamics Atlas model in competition. Prof. Seth Teller told the Globe that his team of Atlas programmers from the MIT Computer Science and Intelligence Lab are "in it to win it," but they'll be competing against one of their own. Dr. Michael A. Gennert '80, SM '80, SCD '87 will face off against his own alma mater, as he is the current director of the robotics program at WPI.
Atlas is an MIT legacy himself. Dr. Marc Raibert PhD '77 founded Boston Dynamics in 1992 "as a spin-off from the Massachusetts Institute of Technology, where … [he] and his colleagues first developed robots that ran and maneuvered like animals." Atlas also has a mechanical hand designed by iRobot, another MIT alum-founded company known for both the Roomba and for the Packbot, which recently aided the Boston Police Department in capturing the Boston bombing suspects.
For news about the contest and details about the teams competing, check out the DARPA Robotics Challenge website. To see exciting robot innovations in action, watch videos of Boston Dynamics creations on their YouTube channel.
Filed Under