Building an Online Home for Black History
Filed Under
What do boxer Joe Frazier's birth, the admission of the first African American student to the University of Tennessee, and the devastating earthquake that shook Haiti in 2010 have in common? They were the daily facts featured on the January 12, 2021, home page of BlackFacts.com.
"We want to become the Black Wikipedia," says BlackFacts.com founder Ken Granderson '85, "the one-stop shop for news, technology, culture, and anything Black. We want to inspire people of color across the globe, as well as friends from any culture. And we want to empower the Black community to take control of its own narrative so we can tell our own stories."
Son of second-generation Caribbean immigrants, Granderson was born and raised in a predominantly Black Brooklyn neighborhood. While his father supported the family working as a postal supervisor, his mother took secretarial jobs to send Granderson and his brother to a private school. "It was there that I saw my first computer and caught the computer bug," he recalls.
Granderson arrived at MIT in 1980 and spent five years there, studying electrical engineering and working as a DJ at parties and college campuses across New England. "I was having so much fun, I stayed an extra year," he says.
The path to BlackFacts.com was anything but straight, he notes in retrospect. After graduation, Granderson helped a friend in Boston's South End recruit home sales reps for a Black-owned skin care company. He worked a series of temporary jobs. One of these brought him to Phoenix Technologies, an IBM clone chip manufacturer outside of Boston. The company soon hired him full time. While working there, he taught himself programming and launched several shareware products.
In 1992, after his third shareware product was offered for sale nationwide in a book sold at CompUSA stores, he left his job and launched a company called Inner City Software. "I looked around and saw that this technology thing is different," Granderson recalls. "There's no old-boy network. There's no one trying to keep me out."
Working in a basement apartment on Massachusetts Avenue where he'd installed an extra phone line, Granderson set out to create software and online networks that could bridge the so-called digital divide and help bring communities of color into the digital age. For the next 12 years, the company produced digital Black history books and built and hosted websites for Black organizations and others. It brought the Bay State Banner, Boston's Black newspaper, online. Granderson organized and led technical literacy workshops. And in 1997 he created the original BlackFacts website.
"I wanted to do anything I could to make Black people see that this technology was just as available to us as it was to anybody else," he says. "I saw myself as an unapologetically Black person taking control of his destiny and trying to inspire others to do the same."
I wanted to do anything I could to make Black people see that this technology was just as available to us as it was to anybody else.
Throttled by globalization and free software, Granderson closed Inner City Software in 2004. While he worked at a series of startups, BlackFacts.com sleepwalked forward on autopilot. But in February 2017, Granderson and his longtime collaborator, Dale Dowdie, decided to revive the dormant site. "We saw it was time to try and make this thing work," he says. "The political situation in the country had changed."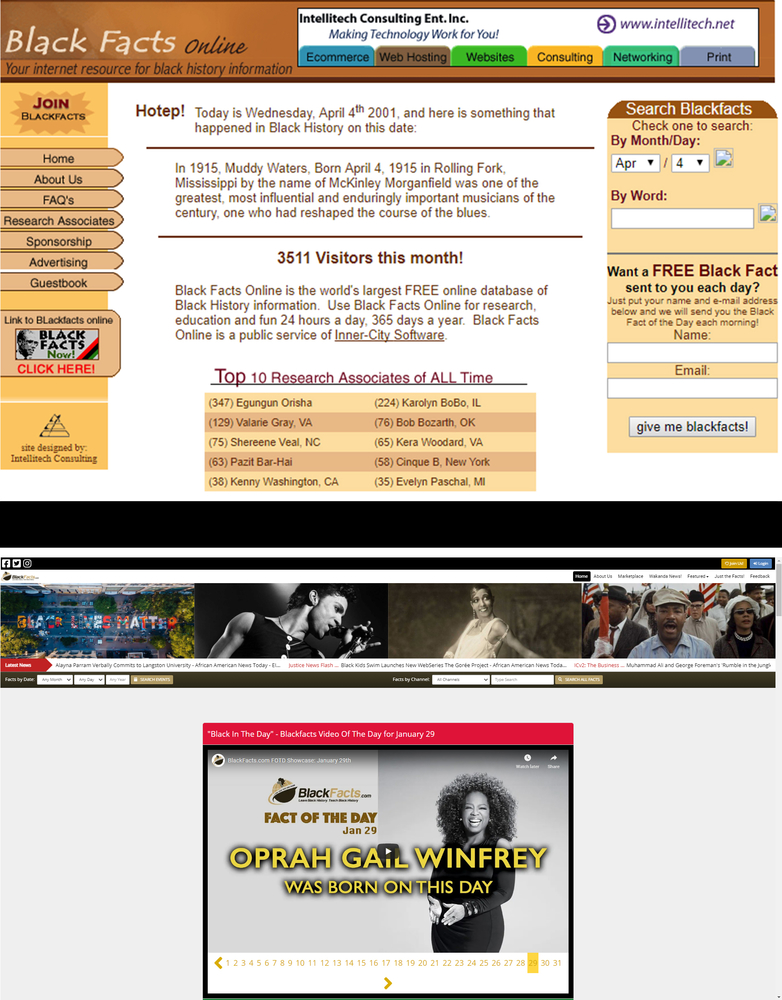 Technology, too, had changed since 1997. And Granderson and Dowdie took full advantage of it. Unlike the original version, which delivered to users a handful of facts curated by Granderson both on the site and in a daily email, the new BlackFacts.com uses artificial intelligence to locate and aggregate relevant content from across the web. A searchable database allows users to find items in Black history, culture, and commerce by date, beginning in 1600. Dowdie produces and posts a daily video, "Black in the Day," that highlights a person, anniversary, or event. As part of Granderson's commitment to building community through technology, the site also features APIs that enable coders to create their own applications on top of its content. Perhaps the most striking new element is a news window, launched on Juneteenth 2020, called Wakanda News, named for the fictitious African country in Marvel's Black Panther comic book series.
"The people in Wakanda possess superior technology that enables them to keep their culture intact," says Granderson. "We deliberately invoke that image to state that we too have superior technology and we're deploying it to protect our community."
Granderson hopes to create a revenue stream for BlackFacts.com from sources including online ads, widget sales, and corporate subscriptions. The site has a social media following of 200,000, mostly on Facebook and Instagram. Journalist and radio host Jamila Bey has observed that Granderson is "using technology to create the future of Black history."
"I'm on the same mission here that I was when I launched my first company," says Granderson. "To empower the Black community through technology. I know that others before me paid, sometimes in blood, for me to have this opportunity. I know I'm just one link in a chain that I have no right to break."
---
Illustration: Jesse Hernandez/MIT Alumni Association
Filed Under