Ngozi Okonjo-Iweala MCP '78, PhD '81, director-general of the World Trade Organization (WTO), will deliver the address at the OneMIT Commencement Ceremony to all members of the Class of 2022 on Friday, May 27. Okonjo-Iweala, the first woman and first African to lead the WTO, is the Institute's 117th Commencement speaker, a tradition that dates back to 1880, the earliest year that MIT Commencement records exist at MIT's Institute Archives and Special Collections.
This year marks a return to an in-person and on-campus Commencement after two years of a virtual celebration. You can watch a live captioned webcast of the ceremony online.
Okonjo-Iweala—named one of TIME's 100 Most Influential People of 2021—is renowned for her expertise in global finance, economics, and international development. She has spent her career committed to fostering economic growth and sustainable development in developing countries.
The former Nigerian finance minister joins a long list of Commencement speakers, including MIT alumni/ae like former United States chief technology officer Megan Smith '86, SM '88 and former Federal Reserve chair Ben Bernanke PhD '79. View an accessible PDF of all the guest speakers at MIT Commencement through the years.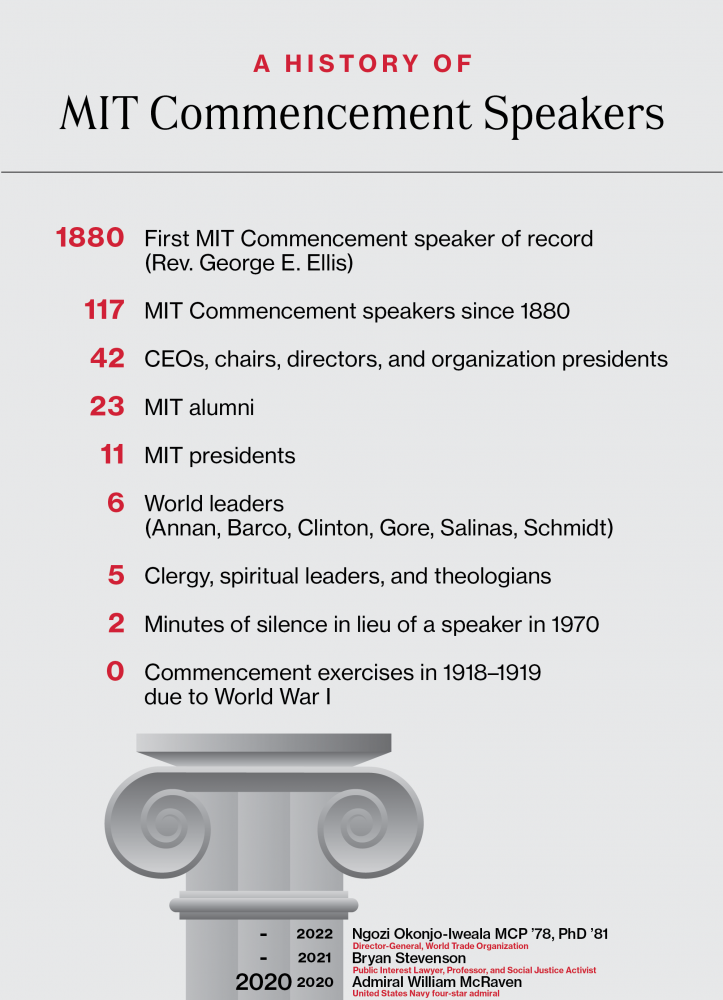 MIT's Commencement speakers have also included many non-alumni, like actor, filmmaker, and activist Matt Damon; three-term New York mayor Michael Bloomberg; Facebook COO Sheryl Sandberg; Apple CEO Tim Cook; President Bill Clinton; and Vice President Al Gore.
Before the virtual Commencement ceremonies in 2020 and 2021, perhaps the most notable event in MIT's Commencement speaker history occurred when there was no speaker. In 1970, during the peak of the US involvement in the Vietnam War, the graduating class asked then MIT president Howard Wesley Johnson HM '66 to refrain from speaking to allow two minutes of silence to consider what can be done "to help resolve the conflicts which divide mankind in this country and around the world."
The most frequent MIT Commencement speaker? Francis A. Walker, MIT's third president, who was the guest speaker 11 times between 1883 and 1896.
The first half of the 20th century often featured more than one Commencement per year. Separate ceremonies, featuring different guest speakers, were held for graduate and undergraduate students in the '40s, and traditional students and military students often had separate ceremonies in the '20s and '30s. The 27 most recent speakers are listed below. View an accessible PDF of all the guest speakers at MIT Commencement through the years.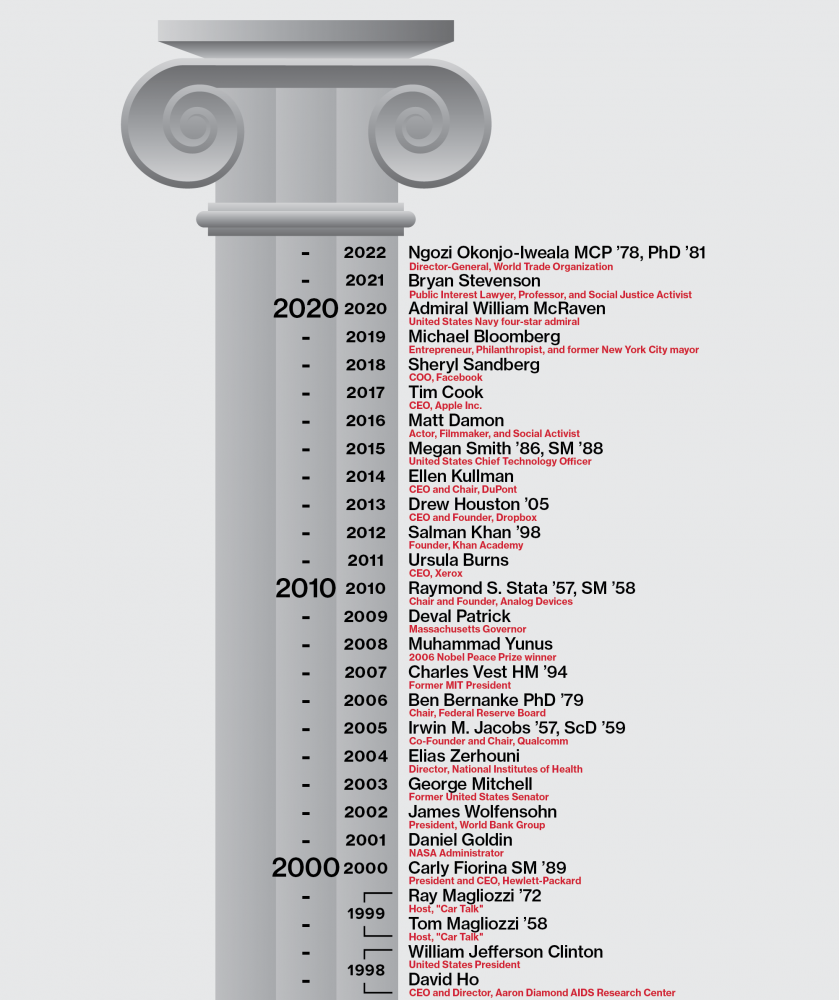 In addition to a return to an in-person celebration, this year also marks a change in MIT's Commencement exercises. MIT's main Commencement ceremony, OneMIT, will welcome all Class of 2022 graduates to Killian Court for speeches, turning of the Brass Rat, and singing of the school song, while each school will hold separate ceremonies to confer degrees.
This year will also include a special on-campus graduation celebration on Saturday, May 28, to honor the MIT classes of 2020 and 2021, whose Commencement ceremonies were held online due to the Covid-19 pandemic. The ceremony's keynote address will be delivered by Kealoha Wong '99, Hawaii's first poet laureate.
---
Photo (top): Courtesy of the WTO.
An earlier version of this story was originally published on June 5, 2014.
Filed Under