Drinking bone broth is making its way from a fitness fad to a mainstream health and wellness routine. Although it may initially sound like that watered down soup broth, bone broth is like a hybrid of a stock and broth that cooks for more than 24 hours, releasing gelatin from the bones along with an abundance of nutritious materials.
The popularity of drinking bone broth got its kick start in NYC sometime in 2015 and has spread quickly, due in large part to the health benefits. Similar to how Starbucks revolutionized the way people drink coffee, Soo-Ah Landa '92 and her company BRU Broth are hoping to make bone broth beverages a part of people's daily lives.
"It's really easy to start drinking bone broth ritualistically, similar to coffee or tea," says Landa, "and you're also getting protein, glucosamine, essential amino acids, and a host of other nutrients."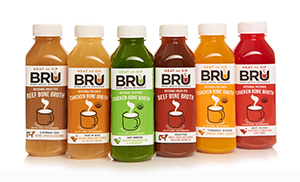 This MIT alumna says hers is the ultimate bone broth—not only is it meticulously made over 24-36 hours to get the nutrients out of the bone, BRU's ingredients are sourced from local, organic, pastured-raised chicken and grass-fed beef bones from sustainable farms. The drinks also tout the added flavor and nutrition of cold-pressed organic vegetables, roots, and spices, like beets, ginger, greens, turmeric, and carrots.
Being Korean, Landa grew up drinking bone broth—it was part of her daily diet and part of her cultural heritage. After years of corporate jobs in investment banking, consulting, and the retail industry, followed by some time staying at home with her two sons, Landa was inspired to start a beverage company. Landa came up with the idea three years ago, before the bone broth trend took off, while drinking a cold-pressed green juice.
"I wanted the nutrient density of the green juice but the nourishment and nostalgia of the warm bone broth," says Landa. "I took greens out of my fridge and pureed them, then heated up the bone broth and combined them and that's how my company was born."
The health benefit of bone broth, says Landa, really lies in the collagen that comes out of the gelatin and the ligaments in the bones. "The collagen is really the miracle in bone broth and why people are being prescribed bone broth for everything from gastrointestinal issues to joints and recovery. It really helps support your gut health, which scientific research is showing is linked directly to our ability to preemptively manage and mitigate a range of diseases and neurological disorders. "
Although there are bone broth competitors, Landa says that BRU is unique because it is the first 100 percent USDA organic, ready-to-heat-and-sip bone broth beverage. "When I launched my company people said I was crazy," says Landa. "They didn't understand how I could put bone broth and beverage in the same sentence. Grocery stores were initially confused too, like you want me to sell this next to the Kombucha and the fresh-pressed juices?"
Due to Landa's diligence, she actually helped to create a new beverage category and she is selling her drinks in grocery stores throughout California, with plans to launch nationally online in May and land in East Coast grocery stores in 2018. "Hopefully five years from now people are drinking bone broth every day," says Landa. "It's rare to find food sources that have all that bone broth does."
Filed Under