Alum's Panoramic Camera Takes World's Highest-Res Underwater Photo
Filed Under
The deepest underwater caves and the inner reaches of King Tut's tomb are now accessible thanks to a new robotic, 3D camera system developed by Corey Jaskolski SM '02, a National Geographic Innovation Fellow.
A new YouTube video shows the robotic camera system taking the world record-setting, highest-resolution underwater image (2.6 gigapixels) in a flooded cave system in the Yucatan, a venture that found a skull and other remains that may be the oldest evidence of humans in the Americas.
[youtube http://www.youtube.com/watch?v=2CMPl_U0Qio&w=500&h=281]
Jaskolski, formerly National Geographic's director of technology, is using the fellowship to keep developing imaging technologies. Here are some of the technical details he shared:
"…my team has developed several cool technologies including the subsea spherical imaging system (seen in the video), timelapse systems that have been deployed in the world's harshest environments (including for years on the face of Mount Everest taking images once per hour) to help understand worldwide ice melt in conjunction with the Extreme Ice Survey; the first true color night vision system used to capture video and still images of nocturnal animals without disturbing them with external lighting; and a 3D scanner for non-contact in-situ archeology.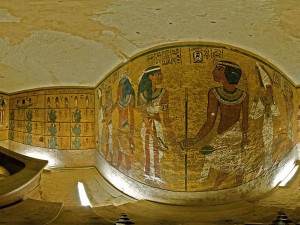 "The robotic camera is the world's first underwater panoramic system. It uses very high precision stepper motors (3.6 million microsteps per revolution, which is 0.36 arcseconds of angular resolution) to precisely position the camera in pan and tilt. The battery-powered system is controlled by a tiny embedded Linux computer running at 720MHz, which takes less than 5W.
"This computer orchestrates the camera's movement such that it takes images around the entire sphere to collect hundreds of high-resolution pictures. At each picture location, the system tags the image data with the spherical coordinates of the camera direction. The system is currently limited to about 200' depth due to the underwater camera housing used, but the controller pressure vessel would handle 1000'."
Learn more about
Jaskolski
or visit the
Tuatara Systems website
for more on the imaging research.
Filed Under