Alums Make it Easy to Make a Difference
Filed Under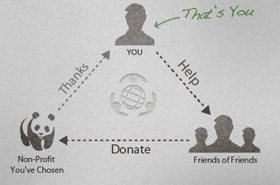 It isn't always easy to support the causes we care about. Money can be tight, our time is short, and we don't always know how to help. Common wisdom says to do what we love, but for those who are altruistically inclined, that doesn't always translate into work a charitable organization can use.
Now it can thanks to ProBueno, a company sprung from the minds of three alumni: Michel Rbeiz '04, MNG '06; Ryan Kabir '05; and Ziad Sultan '03, MNG '05.
The idea behind ProBueno is simple: offer your skills to help anyone in exchange for a donation to the cause of your choice. For example, a tennis coach can offer to give a lesson to anyone who donates $30 to the Red Cross. Currently, there are 1.2 million US-based charities in the ProBueno database.
You can even support MIT just by helping someone else. ProBueno has set up a special page for those who want donations to benefit the Institute. Their goal is to raise $5,000. As of this posting, 20 volunteers had pledged 40 hours of work amounting to $1,700.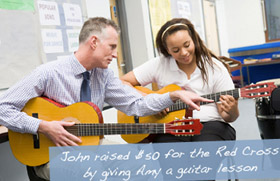 Of course, if you need help, browse the site by donation amount, date of service, or keyword. It's still in beta but a variety of services (some general, some specific) are available: everything from sprucing up a resume, to solving a troublesome app-development problem, to learning to play "Hallelujah" on the piano.
What inspired this idea? "A while back, we were contemplating how helpless we were trying to make a difference with charities we cared about. We could not write a large check or drop everything and take a plane to go volunteer," Rbeiz says. "For myself and Ziad, it was the Red Cross in times of war in the Middle East; for Ryan, it was the World Food Programme. There are things that we are good at and in demand for (thanks to MIT!), but they do not match nonprofits' needs. It is inherently difficult to use our skills for good. ProBueno comes from the idea that we could contribute in a new way."
The cofounders all met at MIT and have tapped into their MIT connections to help with their endeavor. Fellow alumni and friends provided support and counsel in pursuing this venture.
Since the spring, Rbeiz and Kabir have been building ProBueno full time. (Sultan continues to provide strategic guidance on a part-time basis and is focusing on his new startup, Marginize.) Currently, ProBueno is setting up more nonprofits to receive donations. Companies are also interested in using the site to promote community-service days.
Alumni, don't forget that your do-gooding can support the Institute.
Filed Under