Alum's Film Stars Serious Hollywood Talent—See it First at MIT!
Filed Under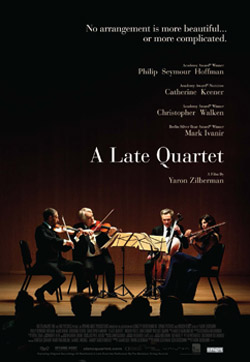 On paper, Yaron Zilberman '94, SM '94 is not your typical filmmaker. He earned a bachelor's in physics and a master's in operations research from MIT. He then worked as a mathematician on Wall Street and was involved in start-ups before being introduced to a film project.
Now, having written, directed, and produced his second feature-length film, he's found his calling. A Late Quartet, which will be released on Nov. 2, stars Oscar winners Christopher Walken and Philip Seymour Hoffman, Oscar nominee Catherine Keener, and Mark Ivanir and Imogen Poots.
The film uses Beethoven's Opus 131 String Quartet in C-sharp minor to tell the story of a world-renowned string quartet grappling with sobering news: its beloved cellist has been diagnosed with Parkinson's Disease. As the quartet is about to play its 25th anniversary concert, quite possibly its last, suppressed emotions, competing egos, and uncontrollable passions threaten to derail years of friendship and collaboration.
"I aimed to explore the delicate balance required to achieve a gratifying relationship dynamic," Zilberman says, "one that frees the individual to ascend to his or her highest potential while remaining a significant contributing member of a team—gapping the tension between the individual and the group, between the I and the We." Check out the trailer below.
Early buzz for the film is good. Jon Weisman of Variety says that "in 105 minutes, A Late Quartet tackles marriage, ambition, parenthood, art, mortality, lust, perfectionism, and more with a dexterity and sensitivity you'll rarely see." Lou Lumenick of the New York Post, who saw A Late Quartet at the Toronto Film Festival in September, predicts Walken could receive another Oscar nod with his performance.
A Late Quartet is Zilberman's first foray into fiction. His debut work, Watermarks, which was released in 2004 and earnedhalf a dozen film-festival awards (including at the Palm Springs International Film Festival, Viennale, Jerusalem, and Paris Cinema Film Festivals),documentedthe lives of champion women swimmers of the legendary Jewish sports club Hakoah Vienna. The film captures the reunion of the now 80-year-old women as they swim together one more time in the city they were forced to escape 65 years earlier when the Nazis marched into Austria. Read more about it in this profile of Zilberman that appeared in Technology Review.
Having studied at MIT, Zilberman says, has benefitted his art: "The MIT experience was one that I will forever cherish, especially the curiosity-based attitude toward learning; the emphasis on creativity in everything learned, researched, and explored; and the infinite variety of topics of knowledge."
Free Early Screening at MIT A Late Quartet opens in six cities nationwide (including the Kendall Square Cinema) on Friday, November 2. But you can catch an early (and free!) glimpse on campus on Nov. 1 at 7:00 p.m., sponsored by Entertainment One and the MIT Lecture Series Committee. The movie will be screened in Room 26-100, and there will be two entry times, one at 6:00 for the MIT community to allow for preferential seating and the second at 6:30 for the general public. A string quartet will also perform as guests enter the auditorium.
So, how does a filmmaker with only one documentary to his credit manage to land two Oscar winners and an Oscar nominee in starring roles? And how did he get four actors to play like professional musicians? Read the Q&A to find out.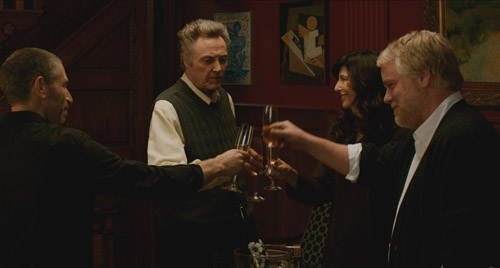 Slice: Where did the inspiration for A Late Quartet come from? Yaron Zilberman: I first came up with the idea for A Late Quartet while traveling with Watermarks, the film I had just completed. I wanted my next film to be an intense relationship drama that explored the complex iconic bonds formed between parents and their children, between siblings, and between  long-term married couples. As an avid fan of chamber music since my teens, I thought that the close-knit dynamic between the members of a string quartet could be the ideal setting for this journey.
Becoming an established string quartet involves years of intimate, intense rehearsals and performances punctuated by frequent arguments over every note and every sentiment. While each individual has the potential to star as a soloist, their success is dependent on their ability to rise above their egos and complement each other despite their individual differences.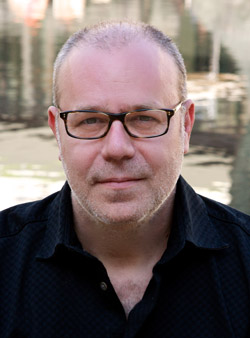 S: Do you have a music background? YZ: I played musical instruments during childhood, and later the cello for a year, but my music background is really from listening (a lot), discussions with musicians, and reading. For the film  I documented a Juilliard string quartet called the Attacca Quartet as they were coached by several masters of the field, and I've collaborated with the accomplished Brentano String Quartet both as music consultants and for providing the quartet music in the film.
S: What was the writing process like? YZ: First I wrote the story outline and characters, and when that was ready I asked my friend Seth Grossman to join me in writing the script. After we were done, I kept rewriting for a few years until it was ready to send to actors. From idea to releasing the film, it took seven years, but the intense work took roughly three years.
S: How did you manage to land such an amazing cast? YZ: With meticulous preparations including research and endless rewrites of the script until it was ready to be presented to the cast, with approaching cast that has a personal connection to the story, and with a lot of help from our exceptional executive producer/casting director.
S: What's it been like writing/directing/producing fiction vs. a documentary? YZ: In some aspects it was a huge leap, creating a world out of scratch, but there are a lot of similarities, like the idea of telling a story. In both, one has to tell a story that is engaging from beginning to end through characters. The difference was working with actors to portray the characters as opposed to documenting people being themselves.
An interesting aspect of a string quartet is that they play without a conductor, so I felt I had to try to minimize my intervention, not to force the situation but let their chemistry unfold in front of the camera to give the actors as much space to become a tight ensemble facing the same challenges a string quartet would face.
A good consequence was that each actor brought their own life and reality to the movie—a personal realness behind each performance. Then there are more literal connections.  For example, we featured real Parkinson's patients in the movie to better understand the disease and how it changes one's psychology and mobility. In documentary segments, we recontextualized actual photos from the actors' youths to represent the characters when they were younger to achieve a stronger emotional connection.
S: How much music did the actors actually play? YZ: To make the playing possible, they needed to learn short phrases instead of the entire piece. At least two coaches were assigned to each actor so there was someone available at any time to give them a lesson. We created a video board from which they've learned about 30 phrases each, which they practiced and practiced… Their dedication was exceptional and eventually you could see their progress in how they played the instruments—their bow hand movement, the fingering on the strings, the body language with the instruments…it is all very real.
S: Can you share an interesting anecdote from the set? YZ: For every shot that an actor played the instrument, a coach or two had to look at the monitor with me to see that the playing was credible, and until we felt good about it we didn't stop filming. When we filmed the concert with the four actors playing together in wide shots, we had all the coaches attend, and sometimes eight coaches were with me behind the monitor looking at the quartet playing. Imagine eight top string players having to agree that a particular wide shot is credible for all four actors. That was both a funny and a tough task.
Filed Under