Alumnus Co-hosts Next-Generation Design Squad
Filed Under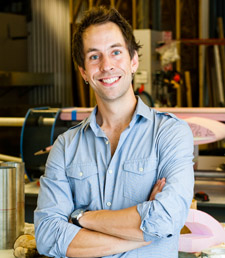 PBS's Design Squad is perhaps the best educational engineering television show for kids, and now the series is set to launch version 2.0: Design Squad Nation. Once again, an MIT alumnus will serve as co-host, offering teens and tweens a role model of a successful, inventive, and fun engineer.
Adam Vollmer SM '05, who studied mechanical engineering at MIT, and Judy Lee will travel the globe showing kids that if they can dream it, they can build it. In the first of 10 episodes, the pair, both engineers at the design and innovation firm IDEO in Northern California, help skateboarders create a modular, weather-resistant skate park on an Apache reservation in Arizona. In other episodes, they join with children from the rural village of Cusmapa, Nicaragua, to build a dream playground and help a 15-year-old pilot from Miami construct a human-powered flying machine (with a little help from NASA) for the 2010 Red Bull Flugtag competition. See below for a Q&A with Vollmer.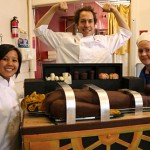 As always, a companion website offers a host of educational materials based on the episodes to excite a new generation of engineers and inspire them to change the world.
Design Squad aims to increase students' knowledge of engineering and the design process, improve the public image of engineering, and encourage further exploration. The original version, which aired three seasons and was hosted by Nate Ball '05, SM '07, was a scholarship contest that challenged teams of teenage contestants to design and build problem-solving products for actual clients. The show won Emmy and Peabody awards and has strong ties to the Institute. Several members of the MIT community were instrumental in its development and production.
Design Squad Nation premieres on PBS nationwide starting tomorrow, Jan. 26. Check your local listings for air times. In the Boston area, it will be shown Sunday, Jan. 30, at 10:30 a.m. on WGBH 2. Check out the YouTube channel for full episodes and highlights from the show.
Update: In February, Vollmer answered a few questions for Slice.
Q: Have you always been involved in helping boost K-12 STEM education? AV: While I was at MIT, a friend and I founded a small group called Science Explorers, whose mission was to pair dynamic young scientists and engineers with elementary and middle school kids to show them how exciting, captivating, and relevant math and science could be. We designed a curriculum of science projects, demos, and experiments and recruited friends to volunteer. It was a great success. Ultimately we were teaching at three different locations in Cambridge and Roxbury and were fairly regularly invited to science fairs and other community events. We'd wear our MIT lab coats as our "uniforms"—it was as much about theater as it was about education. I've always thought that fun and entertainment (in a smart way) has a big place in education.
Q: What was the most inspiring or fulfilling episode you filmed? AV: If I had to pick one, I would say that our episode in Nicaragua, designing and building from scratch a playground with the community of Cusmapa, stands out. We had only three days, and without an amazing amount of hard work from the kids, their families, and the team from Roadmonkey, we never would have finished in this short amount of time. This project will always be special to me because I know that each and every person involved learned so much about how to work with their hands, build, and work as a team, and created something special that the children of Cusmapa will enjoy for many years to come.
Editor's note: this Nicaragua-based DIY Playground episode will air locally in Boston on WGBH on Sunday, March 13, at 10:30 a.m. It will also be available in full for streaming.
Q: What have you learned about promoting engineering through this medium? AV: The emotions you go through when you're building something—anxiety about deadlines and technical challenges, frustration at failure, and excitement about success, are all such a real and important part of the engineering process, that it's important to capture those on camera when they happen if you really want to show the audience what it's all about. We worked hard for that authenticity, and it's one of the things I'm most proud of on the show.
http://www.youtube.com/watch?v=xtTowE8NL10
Filed Under