Alumna's Academic Coaching Business Meets the Pandemic, and Pivots
Filed Under
A chemical engineer by training, Stephanie Espy '01 never forgot seeing her mom tutor kids in their house every Sunday as she was growing up. Those memories inspired Espy to pursue a career in which she could help students become more fluent in math and science. In 2008, she founded MathSP, a STEM-focused academic and test prep coaching business based in Atlanta.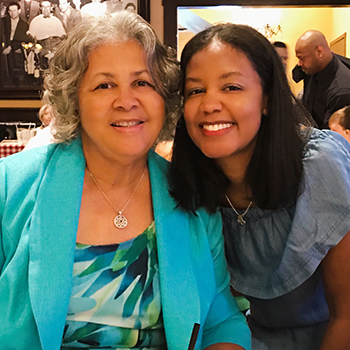 Until the Covid-19 pandemic, most of MathSP's coaching sessions and workshops took place in person—serving hundreds annually—but Espy and her 20 coaches have since pivoted to remote academic coaching. Like many educators, she is grappling with challenges posed by the switch to virtual teaching—but the adjustment has also enabled her to expand the business nationwide.
"We're able to reach more students, more families, more educators across the entire country and across the globe in a way that we weren't focused on doing," says Espy, who says they are still trying to figure out what the future looks like. "It will be a hybrid—connecting with families not only that are local to us but finding ways to offer our services to families that are outside of the Atlanta area."
In addition, Espy published a book in 2016, STEM Gems: How 44 Women Shine in Science, Technology, Engineering and Mathematics, and How You Can Too!, with the mission of helping girls and young women to see their future selves as scientists, technologists, engineers, and mathematicians, and to show them the many diverse options that exist in STEM. STEM Gems has evolved, and now includes a club around the book, as well as camps and other mentorship opportunities.
Filed Under