Alumna Helps Others Turn Research into Empowerment
When Niaja Nichole Farve SM '12, PhD '16 entered her first year of grad school at MIT she was excited and overwhelmed—par for the course. A lesson she quickly learned was that she wasn't properly prepared for what graduate life would be—a problem that she thinks keeps a lot of qualified and underrepresented populations out of advanced STEM education. And, a problem that can be solved.
"After being at MIT for a while, I realized the difference between my undergraduate experience and the experience MIT undergrads had," says Farve. "I really was not well-informed about what grad school was and what would be expected of me. It's very hard to prepare for something when you don't understand what the requirements are. Also, to get into grad school the number one qualifying factor is your research experience, so if you're at a smaller university that doesn't really do research you're at a huge disadvantage."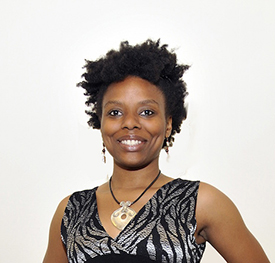 Inspired to create opportunities for underrepresented and underserved communities, Farve submitted an idea for a non-profit as part of Professor Ken Zolot's course, the Founder's Journey, and got first place. Her idea was I Turn Research into Empowerment and Knowledge (i-Trek) aimed at helping undergraduate students prepare for graduate school and gain the research requirements to be eligible. The year-long program, which began in 2014 provides guidance, mentorship, and funding to lower-income women and minorities who often face challenges gaining support and resources (Farve pictured with a group of i-Trek students above).
The goal is to make sure a diverse pool of people can  stay in the STEM pipeline, says Farve. "There is a high dropout rate for STEM fields. Also, trying to increase the diversity in the people who are doing research increases the diversity of what we can learn."
Now in its third year of operation, Farve says that each group of students has seen a lot of success. Although not many have gotten to the point of graduate school yet, all past students that were enrolled at community colleges have advanced to notable four-year programs and some students have even been accepted into the highly-selective MIT summer research program.
In addition to the research component, students in i-Trek are responsible for a portion of the fundraising that makes their work possible. "A big part of the program is entrepreneurship," says Farve. "So, although we'll have most of the money raised for them, we want them to learn how to do an elevator pitch and sell their idea. Besides grad school, our ultimate goal is to get them to feel really empowered and if they have an idea, be able to go out there and execute it."
In addition to her role as CEO and president of I-trek, Farve works full time as a software engineer at a payment platform startup called Spreedly in Raleigh, NC. While at MIT, Farve completed her master's in Course 6 working on the robotic cheetah in the Biomimetics Lab and then joined the Fluid Interfaces group at the MIT Media Lab for her PhD where she transitioned to software development and behavior-changing technologies. Farve also spent eight months in Japan as part of MISTI, where she worked for IBM Tokyo working on robotics.