Alumna Helps Ostracized Girls Build New Lives
Filed Under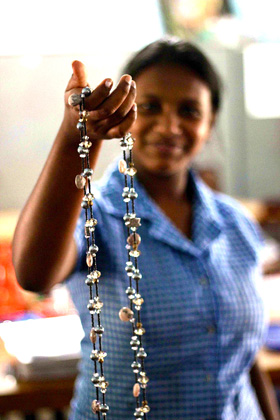 For some women—and girls who have had to grow up too fast—hope is a rare commodity. In Sri Lanka, for example, girls who survive rape or incest and who choose to confront their attackers in court are ostracized from their homes and denied schooling, many pregnant or with infants in tow.
Alia Whitney-Johnson '08 first encountered these girls in 2005 on a tsunami-relief mission to Sri Lanka sponsored by the MIT Public Service Center. She visited a shelter housing them and was struck by both their courage—they were fighting for the safety of their younger sisters and for a better society for girls in general—and their lack of community. Some of them would not talk to one another or work together.
Though there was a communication barrier, Whitney-Johnson found common ground through jewelry making. She shared beads she'd brought (she's an avid jewelry maker), taught the girls how to fashion necklaces and bracelets, and witnessed a transformation. "The girls were hesitant at first," Whitney-Johnson says. "They needed permission to use every single bead. But over the course of just one day, the girls began to open up. They began to make their own designs, to laugh, to share their favorite pieces with one another, and to look after each other's children."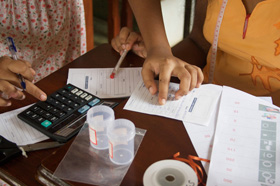 Beading proved to be so therapeutic for the girls that Whitney-Johnson left Sri Lanka with a desire to help in a more substantial way, and Emerge Global was born. The program helps girls emerge into who they want to be, despite what they've endured. They make and sell jewelry on Artfire as part of the Beads-to-Business program, generating savings for their futures (50% of the selling price of each piece goes to the girl who made it) as well as business skills, leadership, and confidence. The girls also receive instruction in life skills and mentorship and are supported in transitioning back into communities after they leave the shelter.
Emerge uses a collaborative capital-creation model in which the girls generate income and learn how to manage that capital without risk. They are free to acquire new skills and build a business without having to worry about repaying a loan or incurring start-up costs.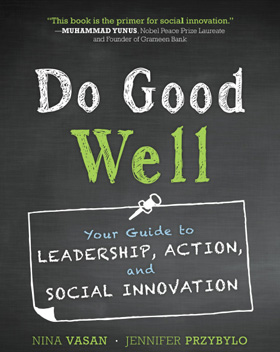 To date, Emerge Global has helped more than 315 girls overcome trauma in their lives and become stronger, more empowered women.
"Some have utilized their skills and resources to build houses, run businesses, go back to school, and support their children," Whitney-Johnson says. "We believe that by equipping these girls with the tools that they need to lead healthy, self-sufficient lives and to become leaders in their communities we can build a movement where these young women will end abuse in their spheres of influence."
Whitney-Johnson's goal for emerge is to be locally run and completely self-sufficient. To that end, Emerge created its own local implementing partner, Emerge Lanka Foundation, a separate legal entity with a local board that works with groups already running shelters to improve support for Emerge participants. "We want to transform these shelters into dynamic entrepreneurship hubs and learning centers where girls gain something really special," Whitney-Johnson says.
Eventually, she dreams of helping girls across Sri Lanka. For now, Emerge is focusing on helping current participants and alumnae succeed in transforming their lives, increasing local sales and fundraising, and building the Emerge Lanka Foundation. They got a little help last year, when Miss Sri Lanka became their celebrity spokesperson and Emerge was featured on the cover of the country's biggest popular-culture and society magazine. The press and word of mouth from mentors and alumnae have starting building awareness for the plight of sex-abuse survivors as well as changes in attitudes toward them, Whitney-Johnson says.
Emerge Global was also used as a case study in the recently published book, "Do Good Well: Your Guide to Leadership, Action, and Social Innovation," for which Whitney-Johnson authored a chapter. The book has received great reviews from the likes of  Nobel Laureate Muhammad Yunus and Pulitzer-Prize-winning journalist Nicholas Kristoff, among others.
Filed Under