Alumna Directing the World Trade Organization Has Advice for Female Leaders
Filed Under
Ngozi Okonjo-Iweala MCP '78, PhD '81 remembers crying for three days after hearing from her MIT advisors that the first chapter of her doctoral dissertation was substandard to her typical work. But, as a PhD student, she picked herself up and went back to work, aced the project on credit policy, rural markets, and Nigerian financial development, and eventually put theory into practice as an economist and prominent world leader. Her most recent achievement was also the most historical: In March, Okonjo-Iweala was appointed director-general of one of the most powerful multilateral organizations in the world, the World Trade Organization (WTO). She is the first woman to fill the role, as well as the first African (born in Nigeria, she has lived in the United States for several decades and holds dual citizenship).
Okonjo-Iweala shared the memory of her alma mater in a June 2021 webcast for the MIT Forum for Equity, part of an MIT Alumni Association series that invites guests to engage in thoughtful conversations about issues related to social justice. The event was co-sponsored by the MIT Department of Urban Studies and Planning and AMITA (Association of MIT Alumnae). Other Forum for Equity webcasts have covered such topics as anti-Asian sentiment in America and improving the Institute's landscape for minorities, as well as perspectives from female leaders in higher education (including MIT president emerita and professor of neuroscience Susan Hockfield). June's forum extended that theme with a focus on Okonjo-Iweala's latest book, Women and Leadership: Real Lives, Real Lessons, co-written with former Australian prime minister Julia Gillard and published in February by MIT Press.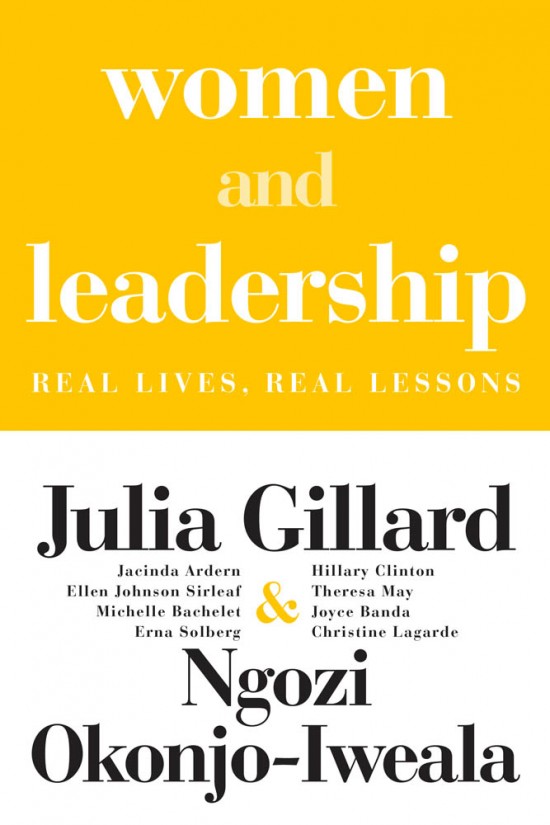 "We wrote this book for women who are in leadership positions or aspiring to be in leadership positions to let them know they're not alone," Okonjo-Iweala said during the event. "Women at the top don't have all the answers." The purpose, she went on to explain, was not to preach to women about how to become a leader, but to provide a sense of what to expect in a leadership position, based on how presidents, prime ministers, and CEOs have overcome gender-related challenges. It features testimonials by some of the world's foremost leaders, including former US secretary of state Hillary Clinton, former UK prime minister Theresa May, and New Zealand prime minister Jacinda Ardern.
During the interactive forum, moderated by Alex Amouyel, executive director of MIT Solve (a marketplace for social impact and social entrepreneurship), Okonjo-Iweala addressed topics in the book, including challenges of being a female leader, advice on balancing work and family life, and overcoming gender disparity.
"Some women who are leaders are seen as too strong or not likable, in contrast to the way men are judged. As a result, they [try to] balance how to show leadership characteristics without losing the feminine characteristics they have," she said. "Women self-censor, and it takes away from what they're trying to do. The best way I can lead is by being myself. Not by walking a fine line."
The best way I can lead is by being myself. Not by walking a fine line.
Prior to earning her PhD in regional economics and development from MIT, Okonjo-Iweala received her bachelor's in economics from Harvard University. Among her many appointments and activities, she's a special envoy for both the African Union and the World Health Organization in the fight against Covid-19, and was chair of the board of Gavi, the Vaccine Alliance. She was Nigeria's first female finance minister and foreign minister, and rose during a 25-year-career at the World Bank to its second-most-senior position. Her other books include Reforming the Unreformable: Lessons from Nigeria and Fighting Corruption Is Dangerous: The Story Behind the Headlines, both also published by MIT Press.
From the hour-long discussion, an MIT audience of about equal parts men and women walked away with actionable advice: "If women want to get problems solved, they shouldn't just preach to other women; they should also target the men. I encourage women to look to men as mentors—quite a few of the mentors in my life were men," said Okonjo-Iweala. She described ways men can do their part, too, by calling out sexism and (along with women) supporting gender equity in both their professional and their home lives.
Describing what she calls the "glass cliff phenomenon," Okonjo-Iweala noted that women may be asked to lead organizations that are in peril and in need of rescuing. Her own glass cliff moment, she told the virtual audience, is happening right now with the WTO, which she says is in need of reform. "We have a dispute settlement system that is paralyzed because the place works by consensus. People ask me, 'Are you a bit of a masochist for taking it on?' I say maybe, but I love challenges, and the WTO means so much to the world," she said, adding that fair trade has helped to lift hundreds of millions of people out of poverty.
"I've been three months into the job; I haven't yet fallen off the edge. It's energizing to try to turn around an organization that can help the world, and help economies grow," she said.
Okonjo-Iweala was recently named one of TIME's 100 Most Influential People of 2021.
---
Watch the recording above, then revisit more archived Forum for Equity webinars and register for upcoming MIT Alumni Association virtual programming.
Filed Under