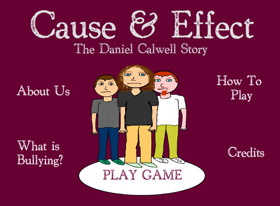 Idit Harel Caperton PhD '88 is passionate about improving science, technology, engineering, and math (STEM) education for tweens and teens, and she's looking to game design to provide a solution. Her social learning network Globaloria allows students to develop STEM and computing knowledge as well as digital literacies.
Launched in 2006, Globaloria is an online platform that allows students in middle school and high school to design and program their own educational games through a mix of teacher-led instruction, team-based learning, and online networking with experts and peers. Girls at the Young Women's Leadership School of Astoria in New York, for example, are designing and programming games that teach Spanish vocabulary and grammar. Power Supply, created by high schoolers in West Virginia, teaches players how to build a home computer. View more games created by students.
Globaloria bills itself as the first and largest social learning network and provides a yearlong academic curriculum, game-design and programming tutorials, game-content resources, and support for users. Students use industry-standard technology, like ActionScript and Google Tools, that offer life skills. Teachers are given rigorous professional development (in person and virtual) as part of the program.
So far, the platform has reached some 5,000 students within 80 schools in seven states. Curricula are customizable to align with state standards, and preliminary results show improved cognitive skills and increased achievement in math, science, and social studies.
Globaloria is part of of the nonprofit Harel Caperton founded, World Wide Workshop, which invents digital technology applications to aid learning.
Read Harel Caperton's Huffington Post article about the importance of engaging girls in STEM subjects.
Watch the video to see how students in San Jose, Calif., are using Globaloria.
Filed Under