Alum-Founded Clover Food Truck Hosting MIT Food Week
Filed Under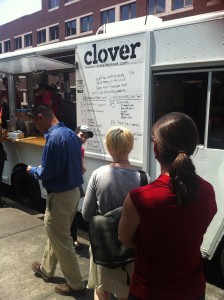 If you're a person who eats a lot of lunches on the MIT campus, then you probably know your options. There are sit-down restaurants around Central and Kendall, fast food joints in the Student Center and near the MIT bookstore. And then there are the food trucks. One in particular--a big white one usually parked near MIT Medical--is often flush with customers.
It's the Clover food truck, one of several trucks operated by the Clover Food Lab, which was founded by Ayr Muir '00, SM '01.
Muir launched Clover Food Lab in October 2008 and seems to have struck gold. He went from seven employees to 70 in about a year (currently has over 100), and he went from one truck to four--plus a really nice restaurant in Harvard Square--in just a few years. There are plans in the works for a few fast food restaurants, so stay tuned.
This week Muir and the crew of the Kendall Square truck are running what they call "MIT Food Week." They're doing demos, tastings, even honing recipes. Today, they're hosting a tea tasting from 3 p.m. - 5 p.m., and tomorrow (Friday) they're having "Coffee Tech" from 9 a.m. - 10 a.m.
"Material science and engineering is the best possible preparation to work with food! Seriously, I've used a lot of what I learned at MIT," says Muir. "Building a business is all about problem solving." In practice, this has led to Muir looking for ways to serve food without relying on traditional livestock farming. His solution is to serve food that is local, just-cut, and vegetarian. "We're here to make food you love," says Muir, and his customers seem to agree.
On Twitter, the handle @cloverfoodtruck is peppered with messages:
"@cloverfoodtruck is amazing. Love the addition of tempeh!"
"@cloverfoodtruck Words are inadequate in an attempt to explain how much I love you. I would that I could hug your whole truck."
"Super excited to see this @cloverfoodtruck. Btw, squash fritters? OMG. http://lockerz.com/s/120494884"
A bonus perk to opening Clover? Muir says, "To my surprise I know more folks in the MIT community (as customers) than I ever did as a student. Too many to list! I probably know 400 people in the Kendall Square area by first name, including friends at Technology Review (Jason, Nathan), Julie (our adopted grandmother), many students, Ruth (our 3-time a day regular who teaches classes), folks at the Model shop, etc. etc." Even Governor Patrick stopped by the other day.
Check it out for yourself, if you're interested.
Location and hours are posted here: http://www.cloverfoodlab.com/?page_id=2248
Today's menu is available here: http://www.cloverpos.com/media/html/menu.html?restaurantId=3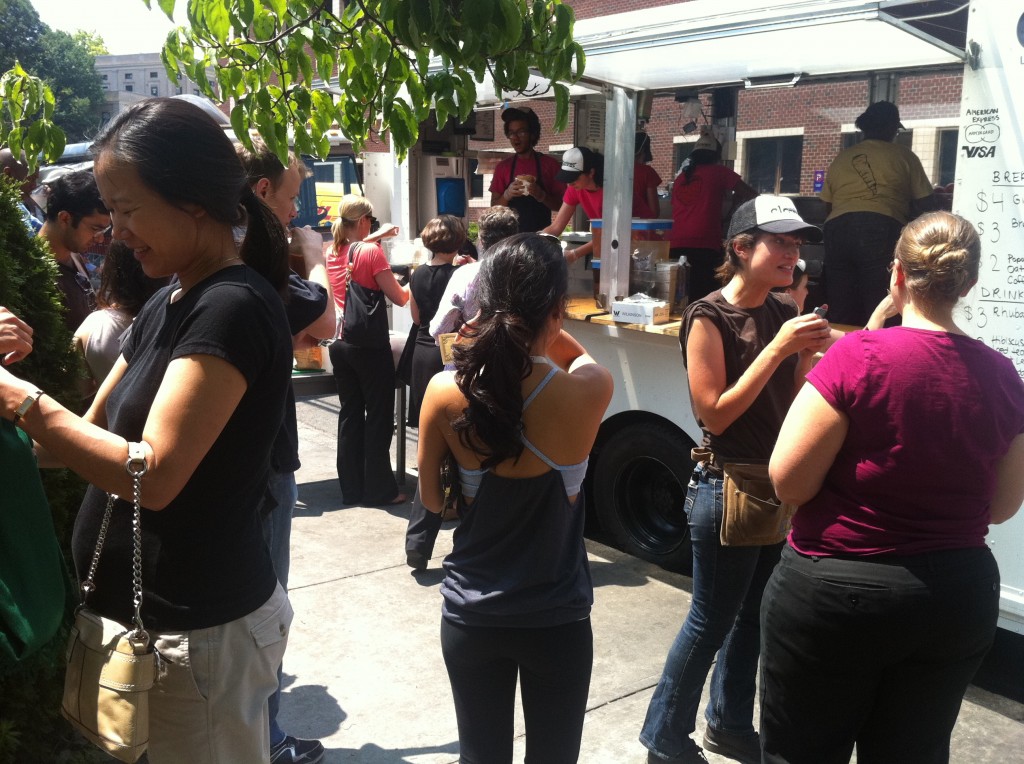 Filed Under