Alum-Built App Connects Refugees with Thousands of Volunteer Translators
Filed Under
Two years out of MIT, Aziz Alghunaim '15, MEng '15 and Atif Javed '15 quit their jobs in Silicon Valley. Alghunaim, then a software engineer at Palantir, and Javed, the youngest product manager in Oracle's history, were convinced their skills were urgently needed elsewhere.
"Both of us were far more excited about building something that can have a lasting impact and solving a really big problem than doing the incremental work at another company that just helps them make slightly more money," says Alghunaim. "From that perspective, leaving my job did not seem a very tough decision."
Trust in each other and in their mutual conviction to do good in the world with the skills and education acquired at MIT were the foundation for their gamble.
From their initial meeting at Campus Preview Weekend in 2011, the two Muslim Americans became fast friends, rooming together at Maseeh Hall for the full four years. At the time, the Arab world was in crisis, with antigovernment protests met with violent responses and millions fleeing for safety to neighboring countries and Europe. Alghunaim was born in the United States and raised in Saudi Arabia; Javed was born in the United Kingdom, to which his parents had immigrated from Pakistan, before moving to the US. Both knew classmates whose families were experiencing the upheaval firsthand.
"The coolest thing about MIT is that you've got the smartest people from all over the world and you're always learning from them," says Javed. "A lot of my desire to help refugees came from talking with friends who are from these countries and experienced the problems taking place there. Some of our conversations in the dining hall were—literally—my best learning experiences."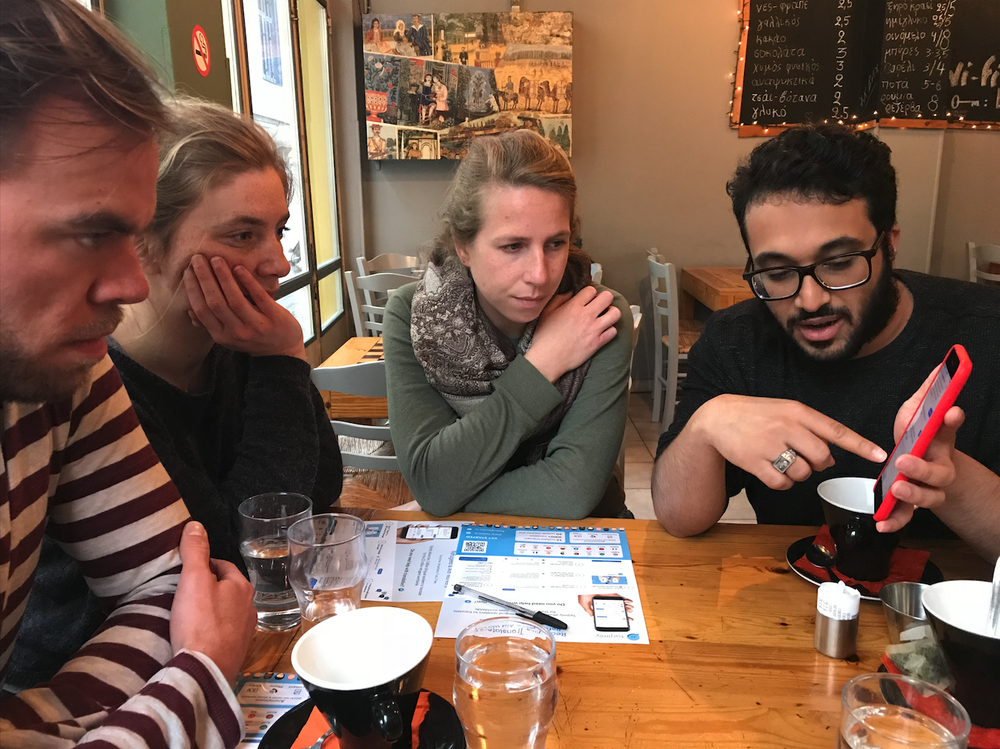 Working in the Bay Area after graduating with degrees in electrical engineering and computer science (Alghunaim) and materials science and engineering (Javed), the two men wanted to make an impact on the refugee crisis beyond donating money to charities. To determine how their skills could be most useful, they traveled to Greece for three weeks. At the first of four refugee camps, they announced they were there to help, touting their top-tier technology credentials.
"Immediately, everyone started asking me, 'Hey, can you speak Arabic? Come translate for me,'" says Alghunaim. "I was pulled around the camps translating very basic things. There was this ginormous language gap. Aid workers did not care about our skills. They did not care that we graduated from MIT or that we were really good with technology and software. They only cared about one thing: I knew Arabic and English."
Frustration on the part of all parties was palpable. Without the ability to connect verbally, aid workers were forced to shoo people away, an image that left an impression on both men.
"They were reduced to an interaction you might use for a dog," says Alghunaim. "If you look at this in its most extreme state, it is clear that language access is a human right. Everyone has the right to be heard and understood. That's just fundamental."
If you look at this in its most extreme state, it is clear that language access is a human right. Everyone has the right to be heard and understood.
Javed, who translated Urdu at the camps, had "rosy" visions of volunteering and feeling good about the experience. Like many before him, he learned he could have very little impact in a few weeks or even months of volunteering.
"My grandmother was a refugee and I saw people like my grandmother in these camps," says Javed. "She fled India for Pakistan, leaving everything behind. For me, this was a moment of clarity. I realized that even though I can build technology for a big company, if I'm not using those skills to help people, then I'm just my wasting my time."
The "app gap" became obvious. With billions of bilingual people in the world, why not create the means for them to volunteer from their own homes?
I saw people like my grandmother in these camps... I realized that even though I can build technology for a big company, if I'm not using those skills to help people, then I'm just my wasting my time.
Within six days of returning to the US, Alghunaim had built an app on top of Facebook Messenger; within two weeks, 700 people had signed up as volunteer translators. A few months later, noted startup accelerator Y Combinator became the first of several organizations to fund Tarjimly. At the start of 2018, both men quit their jobs to grow Tarjimly; the word's root, tarjim, means "translate" in at least 18 languages, including Arabic, Farsi, Urdu, Somali, Punjabi, and Kurdish.
Javed credits courses with Bill Aulet, managing director of the Martin Trust Center for MIT Entrepreneurship, as having prepared him for the challenging yet rewarding work of serving as Tarjimly's executive director.
"MIT made me not shy away from very difficult problems," says Alghunaim, who is the company's CTO. "I still remember my journey there. You start and everything seems terrifying and extra hard. When you finish you think, 'If I could finish this, I can tackle anything in the world!' This is still a big part of my mental model."
Today, Tarjimly has 15,000 registered volunteer translators who collectively speak more than 120 languages. Approximately 10,000 organizations and humanitarian workers use Tarjimly, with an average wait time of two minutes to connect an aid worker in any corner of the world to a translator. Javed and Alghunaim's team has grown to six full-time employees; more than 30 of their engineering friends, many from MIT, have contributed their time.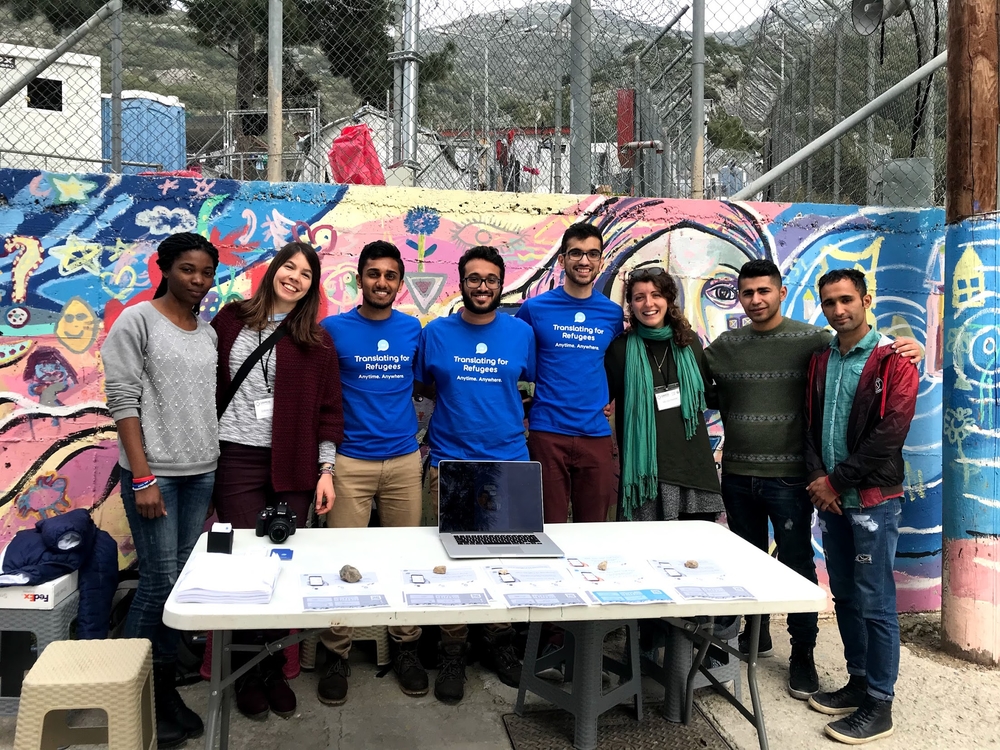 Arabic, French, Spanish, Farsi, Urdu, and Turkish are among the app's top translation requests, but new needs are emerging. "We've learned the language gap is as big a problem in the US as it is anywhere else in the world," says Alghunaim. "With challenges at the southern border the last several years, Tarjimly has experienced a huge spike in the need for translation from indigenous Latin American and Central American languages."
The Covid-19 pandemic has heightened the need for Tarjimly, especially in health care settings, as shutdowns have forced adoption of remote solutions.
At the same time, the remote nature of Tarjimly is "turning the traditional volunteer model on its head," says Javed. Offering people the chance to "micro-volunteer" avoids the burnout many volunteers experience when they spend weeks or more on-site. Instead, people can reply to a ping from Tarjimly, be of service for under an hour, and have a meaningful experience.
As an example, Alghunaim shares the experience of a Tarjimly volunteer in Los Angeles who responded to a request for help from an NGO in Turkey. After the translator spent less than a half hour on the phone, seven refugees stranded on a raft in the ocean were rescued.
"The language barrier is a manifestation of the human divide," says Javed. "I think that is one of the largest, most salient problems the world is facing. I wanted to tackle the hardest problems."
---
Portrait (top) of Javed, left, and Alghunaim courtesy of Tarjimly.
Filed Under