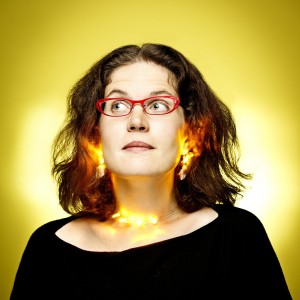 AnnMarie Thomas '01 is an associate professor at the University of St. Thomas School of Engineering. Her new book, Making Makers, Kids Tools and the Future of Innovation, was published last fall by Maker Media. It's a book for parents and kids, but also one for adults who for one reason or another, stopped tinkering and working with their hands to make things at some young age.
In this Alumni Books Podcast, Thomas discusses the childhoods of some of her makers and what she learned from interviewing Dean Kamen, Woodie Flowers, Mitch Resnick, and a dozen other MIT alumni and professors about their childhoods.
"I realized over the years that many of my students were coming in who really hadn't spent a lot of time taking things apart and building things and really playing with technology and tools as kids," says Thomas of setting out to write the book. "As a parent myself, I became really curious about what the childhoods of the people I grew up admiring were like."
Finding common threads among dozens of makers from various backgrounds was a challenge, says Thomas, but overall she found that persistence, playfulness, and optimism were among several qualities of children who continued to make as adults.
The book concludes with plenty of advice for parents of young entrepreneurial innovators.
"Sometimes the simplest tools are the best ones," says Thomas. "A lot of people talked about found materials, less so than formal kits. But more and more, so many kids are being given kits with instructions, or parents are looking to buy the perfect tools to teach their kids something, and giving them less of the freedom that would come from handing them some random parts, a lot of duct tape, and maybe a hammer."
Listen to the complete interview with Thomas here. Listen to past books podcasts with novelists, professors, and entrepreneurs by visiting MITAA on Soundcloud.
Filed Under