ALC FAQs: Everything You Need to Know About this Year's Conference
Filed Under

The
2014 MIT Alumni Leadership Conference
—the Alumni Association's signature event for Institute volunteers—is less than two weeks away, and
online registration
ends Friday, Sept. 12. This year's conference aims to give you a better idea of today's MIT, and a grasp of where the Institute is headed in the future.
More than 40 workshops and brainstorming sessions fill the two-day schedule, which is highlighted by the formal Leadership Awards Celebration. Whether you're still on the fence or you've already registered, these FAQs will give you an idea on what to expect during the two-day conference.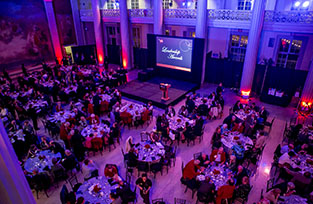 Who's presenting?
The schedule features keynotes from six MIT faculty, including Provost
Martin Schmidt SM '83, PhD '88
, who will share a state-of-MIT update, and Director of Digital Learning
Sanjay Sarma
and Professor
Karen Willcox
, who will share the results of President Reif's
Task Force on the Future of MIT Education
.
Plus, nearly 50 MIT alumni will speak on topics including mentoring, strategic planning, and community organizing, and current MIT students will share their stories in TIMtalks.
Who's coming? Nearly 400 volunteers from more than 60 different graduating class years have already registered for ALC—the oldest alumnus registrant is 86 and the youngest is 22! View an up-to-date list of all registered alumni.
What's the focus of this year's conference? Inspiration! Entrepreneur, author, and executive coach Stever Robbins '86 will lead a three-part leadership seminar, which will focus on learning how to live a life in support of your own highest goals.
The session will be in part based on Robbins's book, Get-It-Done Guy's 9 Steps to Work Less and Do More, and focus on areas to increase productivity, avoid procrastination, conquer technology, and build stronger relationships.
What will I learn about MIT? In addition to the volunteer success stories, the Institute updates from MIT leaders, and event-specific workshops like reunion planning and club and group outreach, Professor of Civil and Environmental Engineering and Macarthur fellow John A. Ochsendorf will lead a conversation on the history of MIT's architecture and plans for future buildings on campus.
You'll also have the opportunity to take a guided tour of MIT's Main Group—the Institute's oldest structures—or visit MIT's extensive public art collection at the List Visual Arts Center.
What else is happening around campus that weekend? Take in a weekend home games for MIT's nationally-ranked field hockey, men's soccer, and women's tennis teams. Plus, exhibitions from Arts at MIT and the MIT Museum will take place Sept. 19-20. Search out more campus events on the MIT calendar.
I can't attend for the whole time—is that ok? Yes! Some alumni need to arrive a day later or leave a day early to accommodate work or personal commitments. We welcome your attendance for any portion of ALC.
How do I register? Online registration for the 2014 Alumni Leadership Conference runs until Sept. 12.On-site registration begins Friday, Sept. 19, at 7:30 a.m. You can register on site beginning at 7:30 a.m. on Friday, Sept. 19.
Please consider joining hundreds of MIT alumni on campus Sept. 19!
Filed Under