After PRISM, Is Too Much Anonymity Possible?
Filed Under
For privacy advocates the world over, protecting one's email inbox from prying eyes has long been a priority. Email privacy made news again in June when word of the National Security Agency's
PRISM program leaked.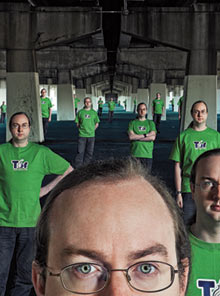 The bad news for terrorists or unsuspecting citizens abroad, in one sense, was good news for Roger Dingledine '00, MEng '00.
Those wishing to escape the NSA's prying eyes were reminded again of the Tor Project, co-created by Dingledine and cryptographers at the Naval Research Laboratory and launched as a non-profit in 2006.
Originally dubbed the Onion Routing Project, Tor is now free, downloadable software that anyone can install and run on a computer. Once installed, Tor blurs a sender's email header by sending that email through a series of nodes (other computers) around the world.
Tor makes it nearly impossible for the recipient—or other prying eyes—to know exactly where the message originated, though the sender's name and the content of the email are still perfectly legible.
Tor is not just an email client, but a software environment for thousands of Internet users. Bloggers use Tor in countries with limited free speech. Rape and abuse survivors use it to connect in secure chat rooms. Journalists, activist groups, NGOs, and private citizens the world over use Tor to ensure Internet privacy.
Even in the U.S., Tor has been useful for keeping one's Internet activity safe from spammers and commercial interests wishing to better target ads on your machine.
"Originally one of my big reasons for working on Tor was to provide tools for people in the West--Americans and Europeans--to let them keep their information safe from corporations and other large organizations that generally aren't very good at keeping it to themselves," Dingledine told Tech Review in 2009.
Because of its wild success, Tor has received mixed reviews from the government agencies. While many U.S. agencies use it regularly for encryption of sensitive data, law enforcement has at times grown weary of its use by less reputable senders, like those who traffic in narcotics, exploitative pornography, and weapons.
In a document released by The Guardian last month, NSA officials even go so far as to say that use of Tor provides the government with grounds for surveillance, no matter where the user lives.
Network privacy has long been a focus of MIT research work. EECS Professor Ron Rivest's (and colleagues) first published RSA public key encryption code in the 1970s, which became the basis for Pretty Good Privacy (PGP), distributed worldwide from the MIT website beginning in 1983.
Filed Under