13 MIT Young Alums Named Among World's Top Innovators
Filed Under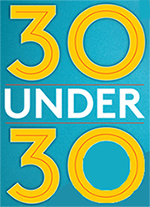 Forbes
magazine's annual
30 Under 30
lists aim to highlight the world's brightest minds who are less than 30 years old. Not surprisingly, MIT alumni are interspersed throughout the lists, which feature 450 under-30s in 15 different categories.
The list-makers—who Forbes calls "founders, funders, brand builders, and do-gooders"—includes 13 MIT10 alums who were recognized in five categories: Education, Energy and Industry, Social Entrepreneurs, Science and Healthcare, and Technology.

Miles Barr SM '08, PhD '12 (Energy and Industry) Cofounder, Ubiquitous Energy
"Barr's invention allows any surface to become an energy producer without impacting the way it looks."
Related:
"
Print a Better Solar Cell
"

Clara Brenner MBA '12 (Social Entrepreneurs) Cofounder, Tumml
"Brenner cofounded Tumml, an accelerator that works with early stage startups focused on urban innovation."
Related:
"
Shaking Things Up For Urban Startups
"

David Cohen-Tanugi SM ' 12  (Energy and Industry) Doctoral candidate, MIT Department of Materials Science and Engineering
"Cohen-Tanugi works to improve water filtration and desalination. Another project aims to reduce the energy consumption of buildings."
Related:
"
Wristify—Thermal Comfort via a Wrist Band
"

Patrick Collison '10 (Technology) Cofounder, Stripe
"Collison built Stripe, an online payments company that processes billions of dollars a year for thousands of companies in 11 countries."

Sayamindu Dasgupta SM '12
(Education) Doctoral candidate, MIT Media Lab
"(Dasgupta) worked with One Laptop Per Child, where he architected a project that allowed kids to read eBooks in their own languages."

Jacob DeWitte SM '11
(Energy and Industry) Founder, UPower
"DeWitte's startup, UPower, is aiming to end that wastefulness by developing a portable nuclear generator. It could, in theory, provide 12 years of energy without needing refueling."

Mitchell Guttman PHD '12
(Science and Healthcare) Assistant professor, California Institute of Technology
"Guttman co-discovered a new type of gene," Forbes says, that makes, "long-non-coding RNA (lncRNA), which seems to play a key role in organizing which genes work."

Solomon Hsiang '06
(Law and Policy) Assistant professor, University of California, Berkeley
"Lead author on the first study to show that global climate likely to have causal effect on global rates of civil conflict."

Ben Lamothe '06
(Social Entrepreneurs) Cofounder, Amicus
"Amicus turns volunteers into fundraisers…Organizations have used Amicus to win marriage equality, protect public education, and to fight for economic justice."

Sophie Ni G
(Energy and Industry) Cofounder, Takachar
"Takachar aims to take organic waste discarded in some of the world's poorest cities, and transform it into valuable charcoal to be used in home cooking."

David Moinina Sengeh SM '12
(Technology) Biomechatronics researcher, MIT Media Lab
"Sengeh has taken on the challenge to design the perfect fit for every prosthetic socket. He's also the founder of Innovate Salone, a group aiming to inspire innovation in his country."
Related:
"
Through Research and Innovation, Alum Gives Back to Sierra Leone
"

Andrew Sutherland '12 (Education) Founder, Quizlet
"Founded in 2005 by then 15-year-old Sutherland to study for a French final, Quizlet provides study tools and games to more than 12 million students each month."
Related:
"
Quizlet—Sophomore Invented Self-Testing Tool
"

David Weinberg PhD '13 (Science and Healthcare) Faculty fellow, University of California, San Francisco
"(Weinberg) runs a research lab focused on how cells decide how much of a protein to make."
Are there any other under-30 alumni that you feel should be nominated? Let us know if comments below or on
Facebook
or
Twitter
.
View the entire list of under-30 innovators, which also includes Broad Institute of MIT and Harvard postdoctoral fellow Aleksandar Kostic, at Forbes.com.
All photos via Forbes.
Filed Under