At 100, Bill Milliken Officially a Legend
Filed Under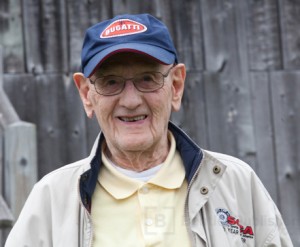 With all the success Bill Milliken '34 has had in his life, it's funny that he's immortalized for his most well known mistake. To many auto racing fans, the 100-year-old Milliken is known only as the namesake behind "Milliken's Corner," the iconic turn in the Village of Watkins Glen, New York, that earned its name when Milliken flipped his Bugatti during the Village's first road race in 1948.
In reality, Milliken's contributions to auto racing and Watkins Glen stretch far beyond that corner. He was honored as such last month when, alongside racing legend Mario Andretti, he was named a "Legend of the Glen" by Watkins Glen International Raceway. As part of the induction, Multimatic Engineering unveiled an interpretation of the MX-1 Camber Car—a historic car raced by a 91-year-old Milliken in 2002—during the Raceway's Vintage Racing weekend.
From the Watkins Glen International website:

Milliken's largest impact on The Glen, however, might have come off of the track as he was instrumental in the planning and designing of both the temporary and permanent tracks.  His use of sweeping turns and long straightaways throughout the course that allow for high speeds has resulted in Watkins Glen International becoming known as the super speedway of road courses.

"Bill Milliken was a hero to me as a kid and is one of the giants of Watkins Glen legacy," said Michael Argetsinger, son of Watkins Glen icons Cameron and Jean Argetsinger and accomplished motorsports history author.
http://youtu.be/ZubiRWJQuzA
The induction capped a yearlong celebration for Milliken, whose 100th birthday was celebrated by the International Motor Racing Research Center in April. And while much of the focus was his impact on auto racing, which includes racing for more than seven decades, it's only a small portion of his lifetime accomplishments.
After graduating from MIT with a degree in mathematics, Milliken helped develop the Boeing B-17 heavy bomber, which was used in World War II, and participated in the Boeing B-29's first test flight. He established the Vehicle Dynamics Department at the Cornell Aeronautics Laboratory in 1956 and later started Milliken Research Associates, which is now run by his son, Douglas Milliken '77.
An accomplished author, his book Race Car Vehicle Dynamics was published to wide acclaim in 1994, and his 2006 autobiography, Equations of Motion, was championed by Jay Leno in the March 2008 issue of Vanity Fair magazine.
Filed Under