Student Invention Puts the Stroll Back in Strollers
Filed Under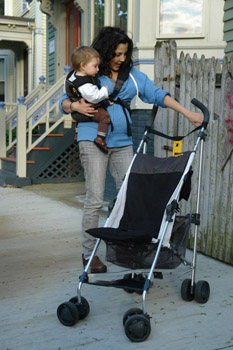 It's not easy being an urban parent with a stroller. There are revolving doors to contend with, uneven pavement, cobblestones (right, Bostonians?), and public transportation with its turnstiles, out-of-order elevators, and escalators. How are environmentally hip parents supposed to ditch their cars in favor of public transportation when strollers are involved?
Enter the BuzzyBaby Child Carrier System, a harness that allows parents to easily transfer a baby to their body and sling a stroller over a shoulder for easy maneuverability. As the BuzzyBaby Facebook page says, the design is optimized to handle any urban environment—without having to ask a stranger for help up a mountainous staircase. It's also designed to work with most brands of lightweight strollers.
BuzzyBaby is the end result of a joint MIT–Rhode Island School of Design graduate class, "Product Design and Development," which sought to deliver useful inventions. Nineteen RISD students joined 30 engineering and 30 management students from MIT in Cambridge twice each week for the class, which was taught by MIT faculty and those with joint appointments at MIT and RISD.
Last month, the 11 teams presented their products to a panel of product-development professionals; some teams, including BuzzyBaby, have already applied for patents. BuzzyBaby hopes to begin selling the strollers next spring and has received a lot of buzz lately, with write-ups in the Boston Globe and the Atlantic online.
View a photo gallery with many past class projects from "Product Design and Development."
Filed Under