In Praise of MIT Spouses & Partners: 40 Years and Counting
Filed Under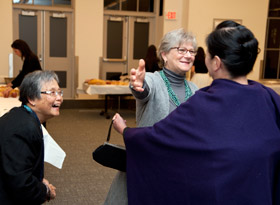 Every day when I ride the Tech Shuttle to work, parents board with their young children. The drivers high-five them; the kids love it. It's a nice reminder that many students here—about 60 percent of whom are grad students—have spouses and families both supporting and depending on them. I imagine it isn't easy being married to an MIT student, what with your spouse's unpredictable hours and intense workloads.
And consider that some 40 percent of grad students are international. Add to that international post-docs and visiting scholars and you have a lot of spouses coming to MIT who are, perhaps, unfamiliar not only with campus but with America as well—and largely on their own to navigate their new surroundings. The whole situation can be challenging, to say the least.
Which is why, back in 1972, professionals at MIT medical decided to do something after noticing a variety of mental health concerns and stresses among the Institute's international population. Charlotte Schwartz, then a psychologist, spent a year interviewing international students, visiting scientists, and their wives to identify their greatest concerns and needs. Moving anywhere, let alone a foreign country, is difficult, but the international wives (back then, most spouses were wives) of those working and studying at MIT felt particularly isolated. Many didn't speak English, were unfamiliar with American culture, and had to leave their jobs back home.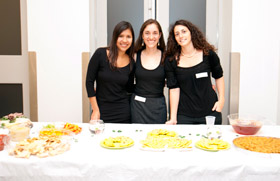 So Schwartz created the MIT Wives' Group, a small discussion session where members could talk through their concerns. The wives soon created sub-groups focused on particular interests, hobbies, and issues, and the organization flourished. In 2001 it was renamed MIT Spouses & Partners to better reflect its inclusivity. The group provides programming, private consultations, and a social and professional network to MIT families, with a focus on newcomers, international newcomers, and parents.
Each year, the group welcomes more than 200 members from 40+ countries—all of whom find an instant support group, language conversation exchange partners, and more. Some of the more than 200 meetings and events offered annually provide free babysitting. Members volunteered 680 hours this fall alone to support programming, and some volunteer opportunities even provide valuable US work experience for spouses who would not otherwise be able to find employment.
In November, MIT Spouses & Partners celebrated its 40th anniversary with a reception that honored founder Schwartz and her successor, Jessica Barton, a clinical social worker, who served until 2007. These days, Jennifer Recklet Tassi serves as program manager and Adrielle Stapleton—herself an MIT spouse and group member—as program assistant and volunteer.
Looking ahead, the group hopes to continue expanding. Last month it launched an alumni newsletter and now maintains a database of alumni. It hopes to create an international network of MIT spouses and partners who can connect after leaving MIT and provide even more professional training for members.
Filed Under