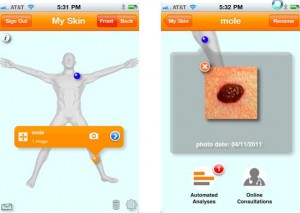 If your dermatologist is anything like mine, the next available appointment is at least six months from whenever you call. But now you don't have to suffer with that strange rash and horrify yourself with photos from WebMD.
Ellen Kislal SM '90, PhD '93, who earned her MIT degrees in electrical engineering and computer science, and entrepreneur Sean Elwell have launched SkinofMine.com, where patients can upload photos of skin conditions using an iPhone app or the website and receive an online consultation, usually within 24 hours.
Patients select a licensed dermatologist and/or nurse practitioner in their state, submit photos, and will receive a diagnosis, prescription and/or over-the-counter recommendations, therapeutic advice, and helpful reading links, all for about $30-$50.
You can also upload a photo of a mole for an automated analysis—quantitative feedback about symmetry, border, and color regularity—or upload two photos, which can be mathematically aligned to highlight changes in your skin. There are also modules for wrinkles, acne, and more. The service has launched in about six states with the rest of the country expected to be available nationwide by year's end.
Filed Under