MIT Students Bring Clean Water to Remote Ugandan Village
Filed Under
Guest bloggers: Marisa Simmons '13 and Steven Pennybaker '12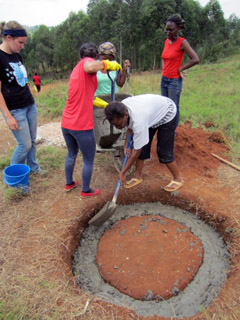 Students from the MIT chapter of Engineers Without Borders (EWB) have helped bring clean, usable water to a remote Ugandan village in an ongoing project that has students and community members working together to achieve the goal.
This past summer, the MIT chapter sent two teams to continue work on rainwater harvesting and alternative energy in Ddegeya, Uganda. This is the third year EWB students have worked in the country, and each year the partnership grows stronger. Last year, a 10,000-liter rainwater harvesting tank was installed in the village. EWB hopes to expand rainwater harvesting in Ddegeya, but in a more economical and sustainable manner. After research and collaboration with other NGOs in the country, EWB decided to pursue a partially underground tank system. This design minimizes the resources and costs associated with the tanks.
In addition to technical design, EWB has worked extensively with the community to develop an acceptable distribution model for the tanks. A Water Projects Board, made up of respected members of the community and established in summer 2010, oversees the existing project and helps EWB work on new endeavors. Initially, local residents were only interested in household tanks, but after discussion about EWB and community resources, Ugandans decided communal tanks would be more effective. Locations were then measured and evaluated.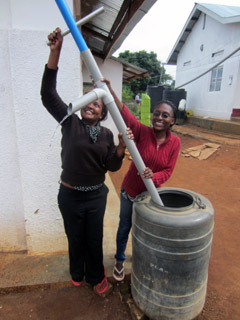 The different components of the tank, including tank lining, pumps, and first-flush systems were also tested and presented to the community for feedback. Each component was evaluated for ease of manufacture and use.
EWB partnered with students from Uganda's Makerere University to work with the residents on developing prototypes. While in Ddegeya, this team built both a ferrocement and a clay tank prototype. The ferrocement tank consisted of cement with a steel mesh internal support, while the clay tank was made using local clay. Different types of pumps were also built using materials available in the nearby town of Masaka. The pumps built by the MIT team were significantly cheaper than the consumer water pumps available. Finally, two types of first-flush systems, a way to prevent the dirt from roofs from collecting inside the tank, were also built and tested.
While in Uganda, the MIT-EWB team also determined the best houses to use for rainwater catchment. Dwellings were chosen in terms of roof size, location, and Water Projects Board recommendations. Students spent time getting community feedback in terms of the projects' cost and benefits to those in Ddegeya.
After all prototypes were made, the students presented them to the community, which provided input as to the usability of the design. The feedback was overwhelmingly positive. Despite more than 6,000 miles separating Ddegeya and MIT, the two communities continue to work together to implement the changes. EWB hopes to travel back to Uganda in January 2012 to implement the designs and build five systems including a 5,000-liter tank, pump, first flush, and gutters.
Filed Under