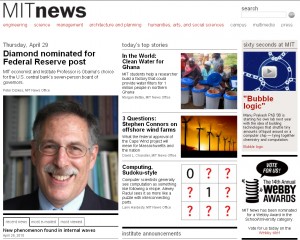 The MIT News office site, revamped last fall, is in a neck-and-neck race for the People's  Choice  in the annual Webby Awards, the Oscars of the Internet. Contests ends at TODAY at 11:59 p.m. PST.
Got a minute? That's about how long it will take to check out the MIT News site--you do want to know what you are voting for, right?
Then go to the Webby school/university contest and vote for MIT News.  If you like, of course.
The winners will be announced May 4 on the Webby Awards site.
Filed Under