This is the last in a series of posts from MIT students who were involved in the
Student/Alumni Externship Program
, which connected current students to alumni in workplaces worldwide during MIT's Independent Activities Period.
Alumni, learn how to get involved
.
Guest blogger: Mei Zuo '13 Host: Irena Asmundson '98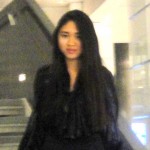 Loans. Currency. Trade. Gold. These are weighty words commonly associated with the International Monetary Fund (IMF). Heavy work, too. But fellow extern Yusuf and I had the privilege of working with an awesome team of economists in Washington DC (in a building designed by I.M. Pei '40 no less!).
Here are some memorable quotes from in, around, and out of the office.
"The IMF is the third largest holder of gold in the world?!" ~DC tourist
"It's all interconnected…" ~monetary macroeconomist Our work was concerned with proving financial and trade connections and networks. What an intense learning experience! Thank you Irena; the Strategy, Policy, and Review Department; and the Alumni Association!
"My mom thinks I work at the World Bank!" ~facetious economist
"The Fund should be called a bank, and the Bank should be called a fund." ~David Driscoll on John Maynard Keynes
"Recovery is underway…" ~Dominique Strauss-Kahn, managing director
"I need coffee." [6x per day] ~Yusuf, fellow extern Due to necessity, I mapped out 9 places to buy coffee within the IMF and World Bank.
"(Nearly) nothing to fear but fear itself." ~Olivier Blanchard, chief economist
Filed Under