8,000 Years of MIT Experience
Filed Under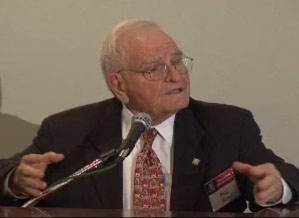 Professor Patrick Henry Winston '65, SM '67, PhD '70
It came the old fashioned way, delivered by a mail carrier. "...I cordially invite you to a special luncheon ... Sincerely, Paul Gray." The price of admission was 50 years at MIT in one capacity or another.   I just joined that august group, along Jeff Meldman '65, SM '70, PhD '75, who conceived the luncheon idea.
I figured it would be an intimate affair, in one of the small dining rooms at the Faculty Club. Maybe 15 or 20 of us lifers would show up.
It turned out to be 150, and two or three had come to MIT before 1940, so 8,000 years is a conservative estimate of the experience present. If you lined those years up, you would get fairly close to when Cambridge was under an ice sheet.
At my table, we talked about what has caused MIT people to be so loyal to the community over the past fifty years. We agreed that meritocracy has had a lot to do with it. Taking care of, developing, and promoting our own has been another important theme. Pride in being different also contributes.
Then came story time.* with a dozen storytellers contributing.
Yvonne Gittens told one of my favorites. She talked of how she first came to interview at MIT, unsure about whether there were jobs for Cambridge kids just out of high school, especially Cambridge kids who happen to be African American. There were, she discovered, and she became a clerk in the Personnel Department. Then, she took advantage of MIT's benefits to earn Bachelor's and Master's degrees, and subsequently rose to become Associate Director of Financial Aid and President of the Massachusetts Association of Financial Aid Administrators and then the Regional Association of Financial Aid Administrators. "Thank you," she said, more to the Institute than to anyone present.
"That's our MIT!" observed Bill Hecht, a tablemate and longtime Executive Vice President and CEO of the MIT Alumni Association.
Another favorite story came a little later, and a little lighter. Tony French recalled the strange case of the daffodil girl.
It happened one day when Tony was new to MIT, teaching 8.01, freshman physics, in 26-100. Part way into his lecture a trumpet sounded. Annoyed by the disruption, he scolded, "That will do," in the accent of the other Cambridge, and went on with his lecture.
A little later the trumpet sounded again, and a young woman, carrying a bunch of daffodils, but wearing only a top hat, bounded down the steps from the back of the hall, handed a daffodil to Tony, and departed.
"What would you have done?" Tony asked rhetorically. Tony himself decided to retire from the field for the rest of that day. This evidently led to considerable complaint from the students, who all felt improperly deprived of one hour's worth of tuition.
*Video link courtesy of Traci Swartz, who organized the event and did a lot of detective work, tracking down as many semicentennials as possible.
Filed Under